Artificial intelligence has advanced with great speed, becoming a market valued at $65.48 billion, and more companies are creating great AI tools that can be used to make work easier. AI voice cloning software is an excellent example of the potential of Artificial Intelligence.
The comprehensive capabilities of these tools are exciting. It is more like having a great voiceover artist available anytime to deliver your script with almost no flaws. Content creators and professionals use this AI voice cloning software to create voiceovers with a specific vocal tone and build avatars on the web. It allows people to clone voices on a phone call too. Established companies use voice cloning software for customer service and technical support. It can help patients in the hospital with voice-related issues to generate their voices if stored in a voice bank with high accuracy.
Individuals without good recording equipment or their studio can seamlessly make their voiceover with the neural network mimicking their voice or using one already stored on its database. The need for this AI voice cloning software is increasing, so we need to know some voice cloning software at least. Let us examine the 7 Best AI cloning software and apps.
Part 1. 5 Best Voice Cloning Software for PC/Web
Finding voice cloning software suitable for producing quality voiceovers with little or no flaws is not impossible. Below are the 5 Best voice cloning software for PC and Web:
Respeecher uses an advanced AI to clone a human voice, allowing people to swap voices without the robotic touch shared by many video games or amateur content created with basic text-to-speech technologies.
We know that voice cloning can be dangerous when misused, resulting in solid ethical concerns regarding using voice cloning Software. Respeecher tackles this concern with ethical principles such as not using the voices of private persons like celebrities, presidents, and public officials without permission to protect people's privacy.
Supporting OS
Respeecher provides official support with the following Operating Systems:
Best For
Respeecher is best for creating new audio tracks based on the voice of the creator or any other person and restoring the original sound and tenor of a voice that has aged.
Main Features
Speaking, whispering, and singing in select voices
Supports Audio / Video
Natural audio output
Creative control to change content
Voice cloning
Pros
Quality pitch
Removes text-to-speech pitfalls
Creative control
Cons
It is hard for it to capture accents
There must be an internet connection
Voice AI has over 480,000 users and a vast library of voice filters. With over $6 million in funding, the impressive tool has changed how voice cloning technology is evolving.
Currently, the tool is available as an app for PC, Android, and iOS. It is also possible for COD gamers, content creators, and others on TikTok, Zoom, Minecraft, GTA5, Fortnite, League of Legends, Among Us, and so many other platforms to adopt it. The Voice.ai interface allows beginners to create a new voice or select from its library, which has over 50,000 voices and modify it to suit your purpose.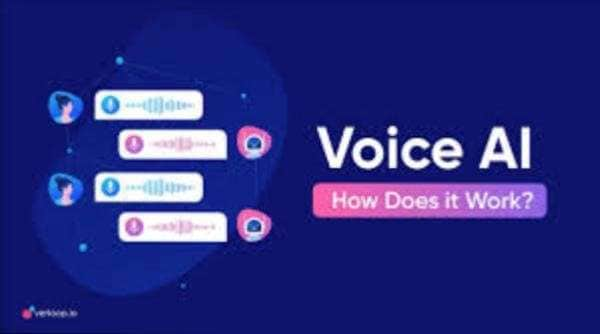 Supporting OS
Voice AI gives official support with the following Operating Systems:
Best For
Voice AI is best for dubbing and transcribing voices. It is also used for generating synthetic voices that sound like a humanlike.
Main Features
Audio capture
Audio creative tools
Audio modifier
Pros
It is affordable
Capable of retaining the basic elements of a human's voice
Its vast library allows people to choose any voice suitable for them
Cons
Not beginner-friendly
Limited tools
ReadSpeaker is an easy tool that makes voice-cloning technology accessible to everyone. It provides the right font size, colors, and settings that work best for them. Designed by experts at the forefront of AI and natural language processing, ReadSpeaker revolutionizes how we interact with written content. Imagine a tool that converts text into spoken words and breathes life into the voice, making it sound eerily similar to an actual human being. The Text Aid tool and browser work outside Brightspace (a learning innovation platform) for other essentials.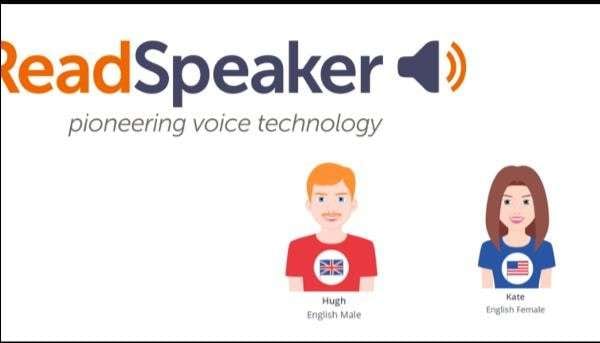 Supporting OS
Readspeaker gives support with the following OS
iOS
Android
Embedded Linux
Windows server
Best For
ReadSpeaker is best used to improve comprehension and motivate readers, students, and content creators.
Main Features
Supports English and Spanish files and translation
Lifelike text to speech
User-friendly control panel
High-quality footprints
Pros
Easy-to-use
Good customers support
Affordable
Multiple voice options
Cons
Pricing options are limited
It is not compatible with MAC
Media IO is a versatile and friendly online tool designed to cater to multimedia needs. It offers comprehensive services like file conversion, compression, enhancement, and editing. This platform supports a wide range of audio, video, and so on formats, making it a go-to solution for media manipulation tasks.
Its easy-to-use interface allows users to convert their media files into any desired format. Whether you need to convert, enhance, or compress, Media.io got you covered as it is designed to make the process straightforward, easy, and fast.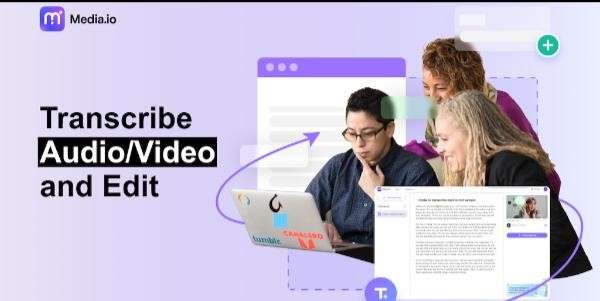 Supporting System
Best For
Media io is best for converting text to searchable and editable audio files.
Main Features
Fast converter
Video recorder
Background remover
Video Editor
AI-generated subtitle
Pros
Ease of use
Screen capture
Perfect UI
Fast and efficient
Play.ht is more of a converter. You can convert your articles, blog posts, courses practically any written content into audio so users can listen. Play.ht uses advanced Text to Speech technology, SEO audio players, and RSS podcast feeds to help people create and distribute their articles in an audio format. Play.ht also allows you to create RSS feeds of your audio.
Allowing users to listen to your content offers several benefits, such as making your content more accessible, it helps people with visual disabilities to listen to your content, and when people listen on your page or website, they spend more time, thereby increasing user engagement of your page or website on time metrics which improves your SEO.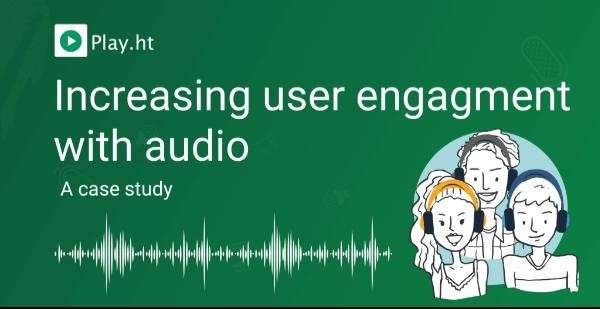 Supporting OS
Ubuntu
Windows
Mac OS
Linux
Best For
Play.ht is best for converting articles and text to audio.
Main Features
API
Online Editor
Customization
Image Editor
Text to speech
Pros
Realistic voices
Amazing voice features
Fast Download of output
Cons
UI is not perfect
Bad customer service
It glitches during operation
Part 2.

2 Best Free Voice Cloning Apps for Android and iOS
Not all voice cloning software works with Android and iPhone. We found 2 free options that are best for Android and iOS and will share them below:
VoiceCopy AI offers amazing features that make re-creating voices simpler and fun. All you need to do to generate an AI voice is to provide a sample of the desired voice you wish to use. Android users can use VoiceCopy AI text-to-speech technology to create voice models that accurately mimic your voice's emotion, nuances, and intonation, making it easy for users to personalize their voices.
Main Features
Multiple language support
Text to speech
Advanced AI
Advanced algorithm
Pros
Ease of use
Accurately replicating
It is free to use
Cons
Not realistic enough
No control over the tone of speech
Users cannot export
The recording cannot be longer than 30 seconds
This app for iOS offers incredible features that make recreating voices simpler than ever before. All you need to do is provide a sample of your desired voice, and the advanced algorithm from Elevenlabs will do the rest. With VoiceCopy AI, you can use text-to-speech technology to generate voices that accurately mimic the tone and intonation of your input, making it easy for users to personalize their own voices.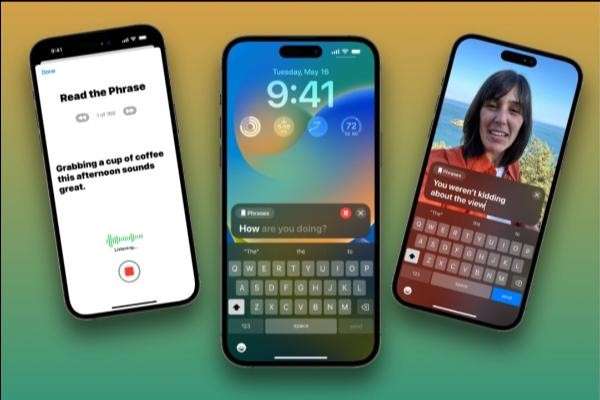 Main Features
Advanced AI
Advanced Algorithm
Text to speech
Multiple languages
Pros
Easy to use
It can be used by people of all ages
Cons
Voices are not realistic enough
Can't export
No voice control options
Recording can not be longer than 30 seconds
Part 3.

What makes the Outstanding Voice Cloning Software?
Above we have seen and discussed the free voice cloning software and apps you can use. Now let us consider some crucial factors to consider when choosing the best voice cloning software:
AI Avatars
Many AI voice cloning tools allow you to create avatars that look like you, but the quality of these avatars can vary significantly. Before selecting the voice, cloning software be sure to clarify the types of avatars they offer; realistic or cartoonish avatars, how good they are, view some examples of the avatars, and compare them with the provider's stock avatars. Also, check the requirements for creating a custom avatar.
AI Voices
Creating voices in different languages is important because it enables effective communication, cultural diversity, and global connection. Therefore, before choosing your AI voice cloning tool, make sure the AI voice can adapt and catch onto any language or accent. It must have a vast voice library and sound natural, like a human's voice with emotion, intonation, and pitch. You must be able to pair your desired voice with your preferred avatar.
Ease of use
Once you have a good selection of avatars and a variety of voices, the next step is to start creating your audio file, which requires tools that offer specific editing capabilities and ease of use. The voice cloning tool should be easy to navigate, have AI-supported features, and be user-friendly.
Support
Customer support should be a top consideration when selecting voice cloning software. A responsive and knowledgeable support team ensures smooth integration and optimal technology usage. From initial setup and user training to troubleshooting and bug fixes, reliable customer support ensures that any technical challenges are swiftly addressed, minimizing downtime and maximizing productivity. Additionally, a helpful support team can assist in customization, voice selection, and language options, tailoring the software to specific needs.
Tools
When evaluating voice cloning software, the available tools are pivotal in the selection process. A comprehensive set of tools can significantly impact the software's versatility and usefulness. Advanced tools for voice customization, accent adjustment, and intonation control empower users to create lifelike and tailored voice outputs for various applications. Additionally, user-friendly interfaces and intuitive tools provide an efficient and seamless experience.
Conclusion
These are some of the best free voice cloning Software for PC and web, Android, and iPhone. We encourage you to try some of this voice Cloning software like KwiCut, Respeecher and so on.