In the age of virtual meetings, you can now generate transcripts of your meetings. There are many automatic ways to generate a Google Meet transcript after each session, and this study closely examines three of the best ways to do this.
The need and benefit of a platform like Google Meet can never be over-emphasized, especially since most companies, schools, businesses, etc., are adopting more remote strategies with every passing day post-lockdown.
Google Meet is an excellent video conferencing service that makes remote work more manageable by enabling virtual meetings through chats, video, audio, and screen sharing with as many as 100 people or more. It also offers collaborative tools to make these virtual meetings effective such as quick messaging, automated recording, meeting transcript, etc.
It is safe to say that a world of the problem is mitigated with the use of a virtual meetings service like Google Meet; office and company meetings can be held from any part of the world seamlessly, project meetings can go on even when team members are not in the same room at the same time, family members can virtually attend a family function if they are out of time, classes and lectures can be given virtually, interviews, speeches, and so many things can be done from a remote location.
And just as in physical meetings where there is always a written (typed) journal detailing discussions had, Google Meet can now generate meeting transcripts for each session so that users can read them later if they wish or reference them from time to time. However, there are easy and automatic ways to transcribe Google Meet recordings at any time, and that is what we will be discussing.
Part 1. How to Transcribe Google Meetings Online?
The first method we will be looking at is how to transcribe Google Meet recordings using an online platform like Media.io.
Media.io transcription app offers one of the best solutions for automatically transcribing Google Meet recordings to text within a few minutes. There is no need to listen to the recording multiple times or even type it manually, and the best part is that Media.io can transcribe your video recordings into dozens of languages, and you can then download the clear TXT files.
Here are the steps to transcribe your Google Meet recordings into plain texts using the Media.io transcription app.
Step 1. Upload your Google Meet Recordings
The first step is to launch the Media.io transcription app and click the Upload video or audio button to upload your Google Meet video recording or audio file.
Step 2. Select Language
Once you have uploaded your recording successfully, select the language that is spoken in the Google Meet recording from the list of languages, then click Transcribe Now to start transcribing.
Step 3. Review and Download
You should see the auto-transcribed texts from the Google Meet recordings on the window; click the Download text button to save the generated transcripts in plain text.
Now you have your Google Meet recording transcripts. Here is what each step should look like
Step 1.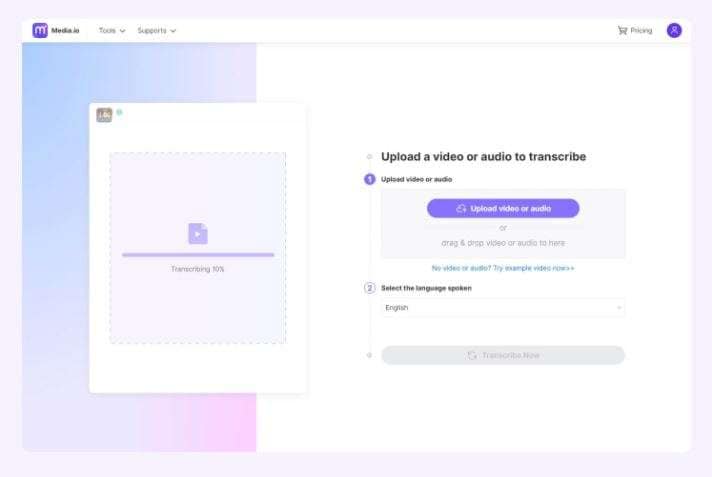 Step 2.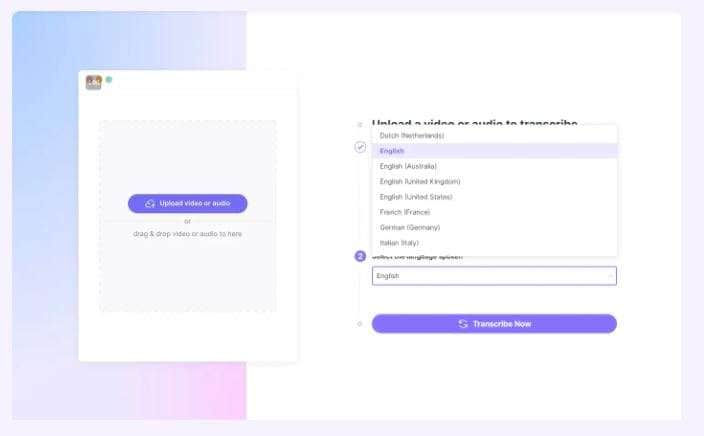 Step 3.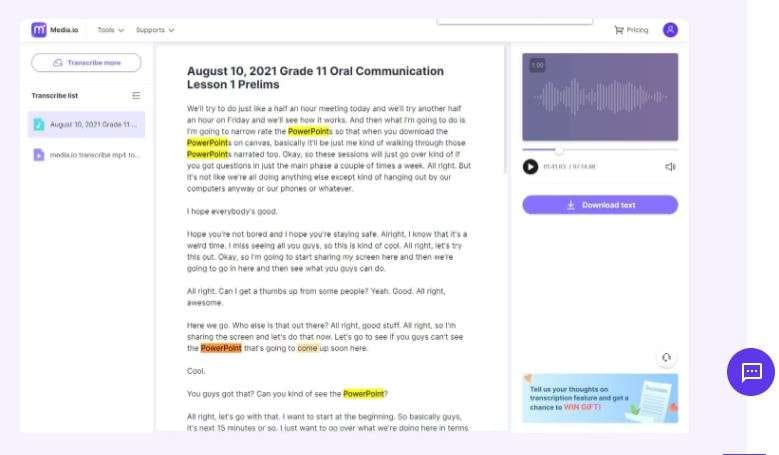 Some of its key features include impressive speed, precision, and accuracy. Not only is using Media.io easy and quick, but it will also transcribe your Google Meet recording with a 90% accuracy and in over 89 languages. It is also a web-based transcription app that requires no installation of an app or plugin to work, and it supports almost all formats, including WAV, MKV, AVI, MOV, MP4, MP3, M4A, and FLAC.
Again, it transcribes your Google Meet recordings to an editable file that allows you to use keywords to search the text file, and you can also use its filler word removal feature to eliminate unnecessary words and phrases from your recording when transcribing it to a text file.
Part 2. How to Use Google Meet Auto Transcription Tool
Meeting transcripts can automatically capture the discussion to make follow-up and references easier. With Google Meet transcription, you can now have a written record of your virtual meetings as they become increasingly popular.
You can now transcribe a live session with the Google Meet Transcription feature. For meeting with fewer than or up to 200 invitees, the transcript link will be made available to the meeting host, co-hosts, or the transcript initiator via email at the end of the meeting. It will also be automatically attached to the associated calendar invite for the meeting. But for meetings with over 200 attendees, the transcription will only be shared with the host, co-hosts, and meeting organizers together with users who initiated transcription.
So, if host management is off, in-domain participants can use transcripts, but if host management is on, only meeting hosts and co-hosts can turn transcripts on.
To initiate Google Meet transcription, follow these steps.
Step 1. Start a Google meeting
Step 2. Click "Activities" at the bottom right corner and open "Transcripts."
Step 3. Click on the "Start Transcription" button.
Once you have done these, meeting participants will see a transcribing icon on the left corner of the screen. Users can also click "Stop Transcription" to end the transcription and save it to their Google Drive.
It is also important to note that transcription will not begin unless an eligible user initiates it, and the Google Meet transcription, however great, isn't without its limitation.
Unlike other automatic transcription services that offer transcription in various languages and output formats, Google Meet supports only the English language and a few more if you use a third-party tool. Again, you get some other collaborative features from other automatic transcription tools that allows you to edit your text file, remove filler words, remove background noises, etc., but Google Meet transcription is built around the live meeting session and does not offer any of these services.
There are also accuracy issues when understanding accents, dialects, and even understanding and interpreting slang, jargon, and innuendos.
Part 3. How to Get Google Meet Transcripts with Otter.ai Extension
Otter takes advantage of its AI proprietary to capture meetings in real-time and share them with every user so that they can join in and collaborate during the session. Otter can automatically join virtual meetings with OtterPilot when you are connected to your Microsoft Outlook or Google calendar to record and transcribe the meeting. It also shares live transcripts with the meeting participants to enable them to collaborate, highlight, and drop comments as the meeting goes on.
When you open a virtual meeting link in your browser or add one to a calendar event, the Otter.ai Chrome extension immediately detects this action. It provides an easy way to OtterPilot the meeting to ensure that every moment is noted. The Otter.ai extension is compatible with Zoom, Google Meet, and Google Calendar, but you will first pin the extension and log in before it gets to work.
Here is how to pin the Otter.ai extension and log in.
Step 1. Download the extension and tap on the extension icon, then tap the pin icon to add it to your browser bar
Step 2. Tap the pinned Otter logo in your browser bar to log in if you have an Otter account, or sign up for one if you don't have one.
After downloading the extension and logging in, here is how to use the Otter.ai extension with Google Meet.
Step 1. Open a Google Meet URL in your Chrome browser
Step 2. An Otter extension should pop up at this point and ask you want to OtterPilot the meeting and get an automatic summary. You also have the option to record on your device via the same pop-up manually
Step 3. If you choose to OtterPilot the meeting, a small in-window pop-up that is only seen by you with your live meeting notes will now appear in your Google Meet interface.
Otter has many great features, including analyzing and generating Google Meet transcripts live, automatically summarizing key topics, and capturing slides shared during meetings. Once the session is over, it can automatically share the meeting transcript with the Calendar event guests.
Part 4. Which is the Best Meeting Transcription Service?
If you took the time to read through this study, you would see without any doubt that these Google Meet transcripts generators are great, and each is unique in its way; however, some are better than others in more practical ways.
So, going by this study, we can easily recommend Media.io because of so many reasons. To start with, Media.io can quickly and automatically transcribe your Google meeting recordings in minutes and with clear precision and an accuracy of 90%. It is one of the few transcript generators that supports many file formats and over 89 languages. And the best part is that it also has other tools that can help you clean up your recording to eliminate those annoying background noises and filler words.
Media.io will also generate an editable file that allows you to search it using keywords. Honestly, it makes things a lot easier, and it is web-based and needs no installation of an extension or plugin to work.
Conclusion
To summarize, Google Meet has made virtual meetings smoother and more accessible, especially in a world that is fast adopting a remote operation system. And it also went a step ahead to roll out a transcription feature that can transcribe your live meeting session into text. However, this study has shown us that while that is a great addition, it has some limitations that cannot be overlooked when it comes down to it.
You should be able to generate transcripts for your Google meeting in as many languages, accents, and dialects as possible and in an editable text file, among many other things. This, and many more, is why we have conducted this research and compared these three Google Meet transcription tools to help you decide which one to work with.