A transcription tool will always come in handy when you do a lot of audio and video work and in some other instances. So, knowing the ideal transcription software to convert your audio/video files to a text file is important.
There is almost a hundred percent chance that you will need apps that transcribe audio to text when you work with audio and video files. Of course, this goes without saying that you cannot use just any run-off-the-mill transcription tool, as not all of them you see online will do a swift job and give you an accurate text file.
There are many instances where transcribing audio/video to text becomes an integral part of a job, such as generating subtitles, transcribing podcasts, conference calls, medical data, interviews for referencing purposes, lectures, speeches easy searching, reading, or repurposing, or to improve your web page's SEO ranking, etc.
Whatever your reason for looking up a transcription tool, you must find the ideal free online transcription tool. This saves you the hassle of doing a job that may be slightly time-consuming twice or more times to get a satisfactory audio file but also stops you from spending unnecessary money when you can get great free transcription software.
Simply put, the need for an efficient and free online transcription tool is a solid one, and it is important to make sure that it offers a high degree of accuracy and is efficient and cost-effective before settling for one. It comes highly recommended via reviews and ratings.
So, that said, we have curated a list of the 7 best free transcription software for all your conversion jobs, and we have also taken the time to point out their different features, pain points, and general specifications so that you can make a pick.
Part 1. What Makes an Excellent Transcription Tool?
As we hinted above, there are boxes a transcription tool must check before it is considered the best, or at least better than most.
Simplicity
One of the first things to look out for in apps that transcribes audio to text is ease of use. You do not want an app or program that sends you through endless hoops before getting a single job done, let alone when you have many files to be converted.
A good transcription software must be simple to use and have a friendly user interface that is straightforward and saves a lot of time!
Efficiency/Transcription Turnaround Time
An efficient transcription tool means half the job is done before you start. What does it mean when we say efficient? It simply means that your preferred transcription tool has great speech and voice recognition, translating to an accurate text file. It also means that it is free of bugs and glitches and will employ every means possible, including AI, to give an accurate text file to as many languages as possible with an impressive turnaround time.
This is why it is important to take the time to read through reviews and view ratings online before settling on a transcription software or program.
File Support
When they say, "the more, the merrier," this is what comes to mind regarding the best transcription software. Ensure that the one you have decided on offers a wide range of file support.
Audio files come in various formats such as MP3, MP4, WAV, etc., so it is important to get an automatic transcription software that supports as many audio file types as possible; that way, you don't have to be looking for a different conversion tool for every audio file type you want to transcribe to a text file.
Price
Having the most expensive transcription software does not necessarily mean they will offer the best in terms of the qualities described above. While some may provide many features requiring a paid subscription to access, others are simple, straight-to-the-point, and get the job done with no extra charges.
So, it is entirely up to you to ensure your chosen transcription tool is cost-effective and you are not just spending money for the thrill of it. I believe that with good research (which shouldn't take long), you should be able to find a great free transcription tool.
Part 2. 7 Best Transcription Software & Tools of 2023
This section will discuss the 7 best free transcription software and tools, their specifications, key features, pain points, etc., and how to use them to help you select the most suitable one for your transcription jobs.
Here are the 7 best transcription software and tools on our list.
Media.io
Trint
Scribe
TranscribeMe
Descript
Sonix
Rev
First on our list is Media.io, a simple and free online program for converting audio to text. It uses AI and deep ML to analyze and transcribe audio and video files to text with 95% accuracy, and it does this in minutes!
Media.io has a modern, simple, and straightforward user interface and transcribes audio and video files to text in three quick steps. It is user-friendly and compatible with every device and operating system with an internet connection. It also generates text transcriptions in over 90 languages and supports many audio file types, including MP3, M4A, WAV, MOV, WebM, AVI, OGG, FLAC, etc.
Going by reviews and ratings from users, it is top three with impressive speed and accuracy, and it is completely free. Its only limitation, if you can call it that, is that it is an online-only transcription tool, but it gets the job done, including subtitle generation for your audio and video files.
Here are the steps for converting your audio/video files to text using Media.io.
Step 1. Upload Your Voice Files to Convert
Launch Media.io speech-to-text converter on your browser to upload the audio/video files you want to transcribe to begin your transcription process.
Step 2. Start Transcribing Audio to Text Online
Select which language you want to transcribe from the language list, then click 'Transcribe Now.' Media.io will analyze the voice and generate an accurate transcript immediately.
Step 3. Download Speech-to-Text File
Your audio/video file transcript is ready. Preview and save the text file to your device.
Here is what each step of your transcription should look like:
Step 1.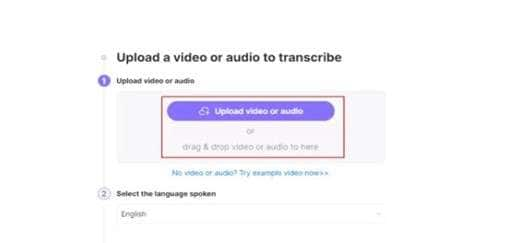 Step 2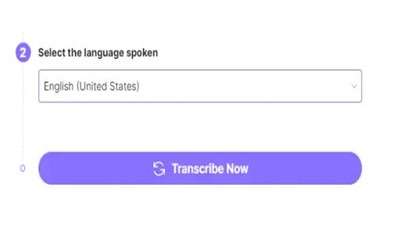 Step 3.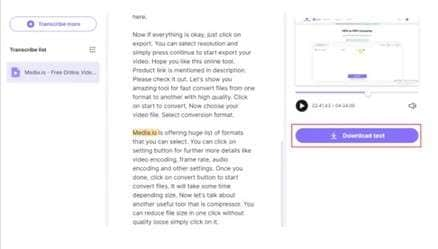 Trint is a popular AI-based transcription software used by journalists, media producers, freelancers, academics, authors, researchers, etc., for converting audio files to text. It is a modern AI-based transcription platform that supports 31 languages for transcription and 54 for translation. Files typically take as long as the length of the file to transcribe.
Trint offers an almost-complete conversion platform with tools to edit documents, and it also allows you to share documents in different formats with ISO-certified data security. One of the best things about Trint is that it is integrated with Adobe Premiere Pro and many other apps. It also offers a free trial for 7 days that you can always use whenever you want, whether you are on a plan or not, and billing and payments are made via Stripe, starting from $48 per month to $68 per user per month.
A prominent limitation it suffers is the lack of availability of mobile apps for Android devices. Here are the steps to convert your audio/video files to text using Trint.
Step 1. Log into your Trint account
When you log into your Trint account, you will arrive on the "My Trints and Stories" page, where you can access all your uploaded files. Click on the yellow button in the top left of the navigation bar to upload something new.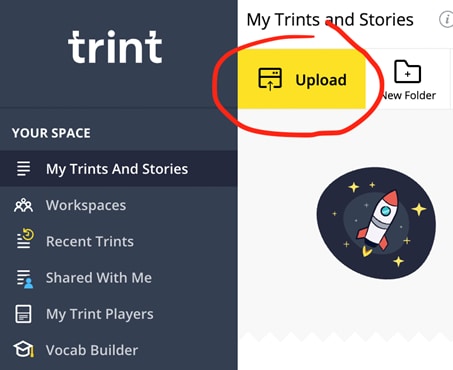 Step 2. Check your audio quality
This step is important to help Trint's AI give you the most accurate transcript from your file. Here, you will confirm if the audio is clean and clear to prevent you from uploading murky audio with echoes, reverberations, and background noises that could lead to a poor transcription result.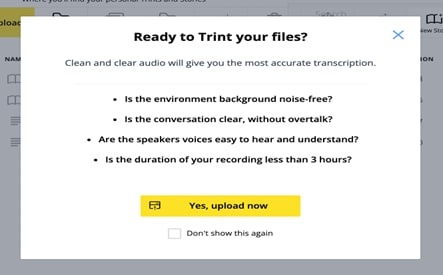 Step 3. Upload files
This is where you get to upload the file you want to convert to text. The next pop-up window allows you to drag and drop audio or video files from your device or any cloud storage such as Dropbox and Google Drive. The audio files must be MP3, M4A, MP4, AAC, or WAV, and the video files must be MP4, WMA, MOV, and AVI.
Once you have selected the files you want to transcribe, click the blue button on the bottom right and begin uploading.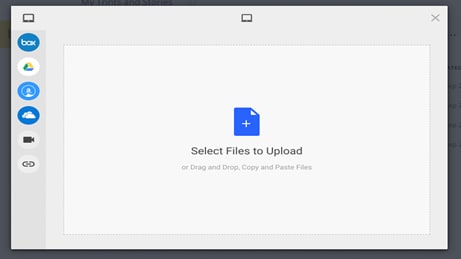 Step 4. Customize your transcript
when you have completely uploaded your transcript, choose the language spoken in the file to help Trint's AI provide a quicker and more accurate transcript.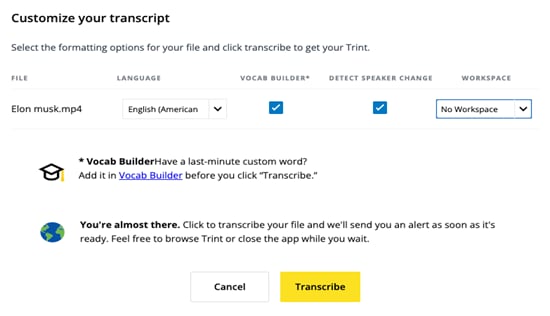 Step 5. Find your transcription
After clicking the yellow "Transcribe" button from the last step, Trint will start transcribing your file, and you will get an email notification as soon as it is ready.
Express Scribe is a transcription software that runs on Mac and Windows. It supports more than 45 audio and video formats. You can use Express Scribe to transcribe dictation, lectures, interviews, movies, voice notes, and any audio/video files to text. It supports a USB foot pedal that you can use to start, stop, pause, and control playback speed for uninterrupted transcribing.
This transcription platform also lets you integrate with apps like Express Dictate, Dictation Recorder, FastFox Typing Expander, etc. It also supports German, English, French, Italian, Japanese, and Spanish languages.
One of its many prominent features is a wide range of audio format support, including MP3, M4A, DSS, WAV, and more. It also supports 3G2, 3GP, ASF, AVI, DivX, DV, FLV, MKV, M4V, MOV, MP4, MPEG, and WMV video file formats.
It also has automation tools for sending and receiving files; however, one of its limitations is the delay in response from the customer support team; another is that it has no cloud or web version, thereby limiting its compatibility to Mac and Windows only.
Express Scribe is a great transcription tool, but only free for a one-time transcription; prices start at $24.99 for further audio/video transcription.
Here is how it works in steps.
Step 1. Download and install Express Scribe
It should take less than a few minutes to download and install to your PC and Mac for free.
Step 2. Adjust the settings
On the main menu bar, find and click on Options to adjust your transcribing settings to suit you. Set the audio playback to suit your typing skills or the recording quality you want, your foot pedal controller, hotkeys, speech-to-text software, etc.
Step 3. Load audio file
After adjusting the settings, you can upload your audio file from your local machine via an FTP server, LAN, or a portable dictation recorder.

Step 4. Start transcribing audio to text
Select the audio file you loaded, then click the play button to start. You can also use any word processor to type or the note section in Express Scribe. You can also use the control tool in the bottom right corner to control the speed and volume of the playback.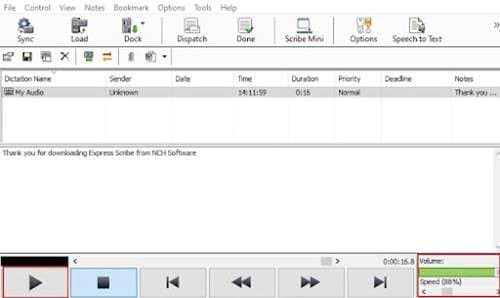 Step 5. Share transcription
When you have transcribed your audio file to text, you can select the "Done" button to remove the file from your list and select Dispatch to email your transcript.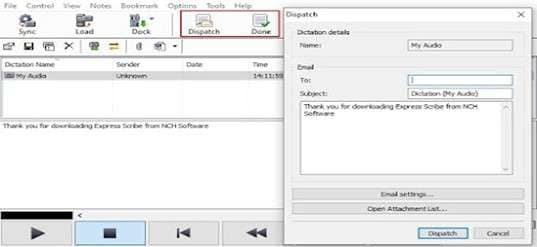 As far as free audio/video transcription service goes, TranscribeMe has few frills and errors. It offers low-cost automated transcription, online editing software that works smoothly, and a great mobile app.
It costs 7 cents per audio minute for automated transcription (a very fair price) and 10 cents per minute in the app. However, human transcriptions with a 99% accuracy cost $1,25 per minute for standard transcription and $2 per minute for verbatim.
It is compatible with the latest versions of Chrome and Safari, and mobile apps are also available. Android and iPhone. It also works with other languages apart from English, such as French, Danis, German, etc.
Although TranscribeMe is affordable and offers AI and human transcription, human transcription may take up to five days to complete. Here is how you can transcribe audio/video to text in four easy steps using TranscribeMe
Step 1. Log in to your account
You will see the homepage that allows you to upload your file once you log in to your TranscribeMe account. You can also organize your audio/video content in folders and download text files in various formats.
Step 2. Upload your file
Pick the file you want to upload by clicking the "Select files from my computer" button, and it will start uploading, showing you real-time status during the process.
Step 3. Order your transcript
Click 'transcribe" after the file is completely uploaded, and it will take you to Order Details Page, where you can see the total price and details that can be edited.
Step 4. Receive your transcript
Once you have verified and confirmed your payment details, order, etc., you will receive your finished transcript within the specified time.
Descript is an audio-to-text converter with great speech-to-text capabilities to convert your audio/video files to text quickly and swiftly. It also helps you edit your audio in real-time by editing the text.
In three steps, it converts your audio/video to text in a simple and intuitive user interface and an advanced speech recognition technology that turns files into editable transcripts.
Although it is an almost perfect audio transcription program, it is free only for a limited file size. You will subscribe to a paid plan for an unlimited length of an audio file. Here is how it works
Step 1. Launch your audio/video transcription tool
Launch your Descript converter, click "New Project" on the top right corner, and name your project.
Step 2. Upload your files
Find the audio file you want to transcribe anywhere on your device. You can now upload your audio/videos by dragging and dropping them into a Descript project.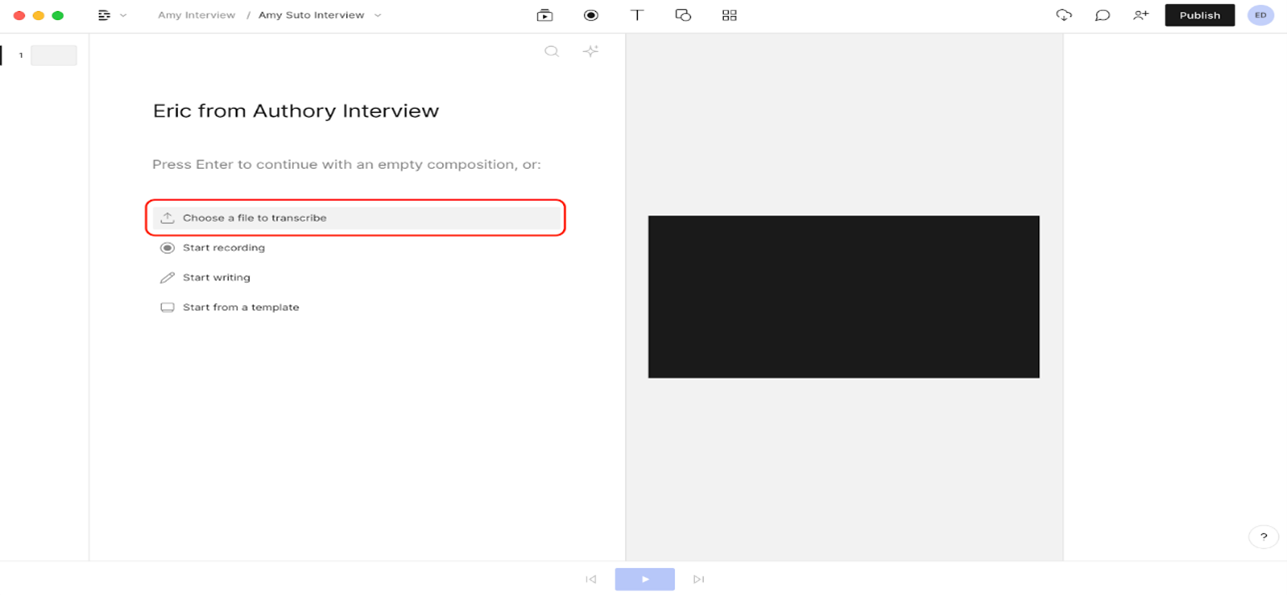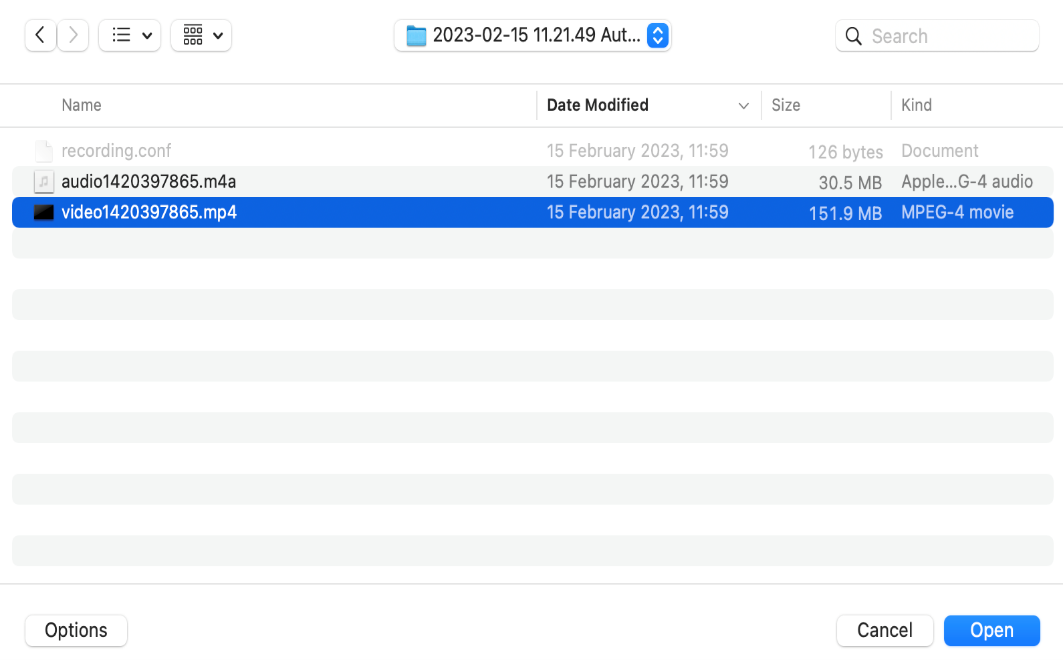 Step 3. Finish
Once your transcription file is complete, you can start editing them if you like
Sonix is one of the best transcription services, with clients from over 100 countries. The software supports about 35 languages and has automation tools for converting audio and videos to text. It also has tools for translating your transcripts into 30 global languages, adding subtitles to your videos, and tools for file sharing, publishing, etc.
It transcribes files at the exact audio length of the file and supports any file format. You also get a free trial transcription of 30 minutes with full access to all of its features, but the price ranges from $10 per hour to custom pricing.
The only downside to Sonix is that it has no mobile app. Otherwise, it is a very efficient audio/video transcription tool. It works in three steps: uploading audio files, adding details, and transcribing and downloading your text file; that's it!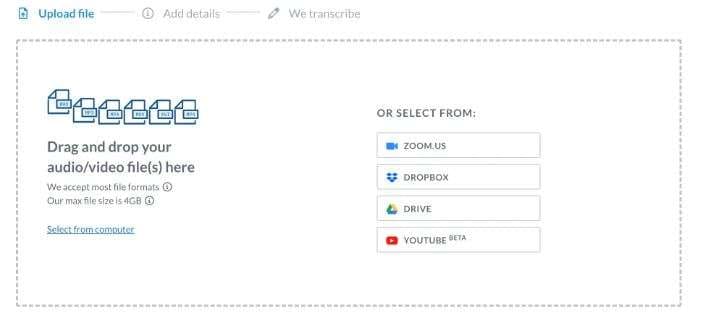 Rev is a transcription platform that is quick, efficient, and ADA and FCC-compliant. The software integrates YouTube, Vimeo, JW Player, and many more platforms. It is a popular choice with professional typists who write audio and video transcripts and has transcript editing tools.
With Rev, you can get video subtitles in 15 global languages, including English. It uses AI-based transcription to generate 90% accurate transcripts and live caption for Zoom. And although the customer service may be a bit slow, they are always available 24/7.
It is important to note that all these great features do not come free of charge. Pricing starts at $1.50 per minute for human transcription and English captions, $3-7 per minute for global subtitles, and $20 per host for Zoom live captions.
Step 1. Upload your audio/video file
First, visit the Rev platform and select Audio/Video Transcription Services. You can upload your audio/video file directly to Rev or copy and paste the file's URL.
Step 2. Choose custom transcription options
Rev offers several options for you once you have uploaded your audio/video files. It allows you to tailor your audio transcription to your needs.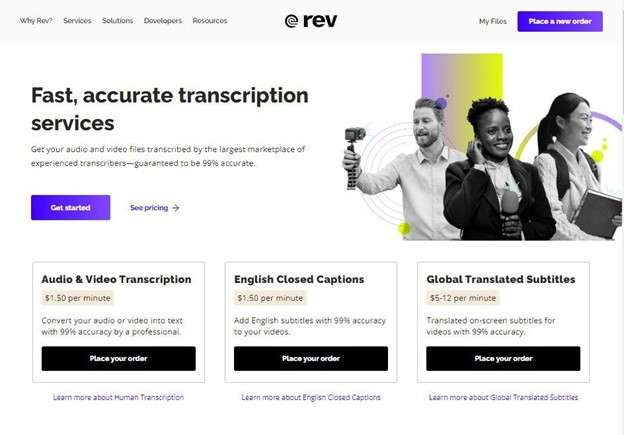 Step 3. Receive and download your text file
You will be notified via email once Rev has completely transcribed your files to text. You can now download your transcript, ready for use.
Part 3. FAQs Regarding Audio & Video Transcription Service
1. Which is the best free transcription software?
Many great audio/video transcription tools are available, but from our research, we would recommend Media.io, Sonix, descript, or any of the 7 we described. They are efficient, reliable, and easy to use.
2. Is there an app that helps quickly convert audio to text on Android or iPhone?
Many apps and online tools can quickly convert audio to text on Android or iPhone, including Media.io, which is great for iPhone and Android devices and is compatible with other devices, browsers, and operating systems.
3. Why choose an AI transcription tool?
AI-based transcription tool is great when it comes to voice recognition. They offer more deep and accurate voice analysis to generate transcripts, and they are the quicker option when compared to human-based transcription.
The Final Words
You now have a great selection of transcription tools to pick from, and we guarantee you won't go wrong with any of the 7 transcription tools we described above.