If you are looking for the best free mp3 to text converter or audio to text free converter online, you will have a lot to choose from. So, how do you know the best ones to use?
Transcribing mp3 to text is something you will encounter from time to time, depending on your field of work, and if you don't know how to find the best one online, you may have to do double the work that is already demanding and time-consuming.
Converting mp3 to text becomes necessary in many instances, such as transcribing podcasts, interviews, conference calls, medical data, improved SEO ranking, etc.; in those instances, accuracy is very important. These mp3 to text converters also come in handy for generating subtitles and so much more.
It is not enough to have an audio to text converter, but you must find one which, above all things, gives you a high level of voice recognition and transcription accuracy. Otherwise, it may all just be a wasted effort.
So, before choosing a mp3 to text converter, you must make sure it offers a high degree of accuracy, availability, and efficiency, and it is also cost-effective and reliable. This is not the case of since it costs money; it must be effective, sometimes, that is not always the case, and this is where checking out reviews and ratings come in so that you don't waste unnecessary time and resources on something that will not yield the desired result.
And if you can, why not kill two birds with one stone? If you can find a reliable and efficient mp3 to text free converter that works online and offline, the keyword here being efficient, why not go for it?
With all that said, this guide has been created specifically to help you navigate and narrow down the list of mp3 to text free converters online for all platforms. We did this, taking into consideration all the places a mp3 to text converter must shine, i.e., accuracy, efficiency, availability, etc.
So, take your time and scroll till the end; you will surely see the ideal mp3 to text converter for your specific need!
Part 1. Top-Rated 7 MP3 to Text Converters Online
Media.io is a simple online program that uses AI and deep ML to analyze video, audio, and audio correctly. The deep ML and AI sound recognition service makes it easy to convert mp3 to text online for free without wasting time and energy and also generates transcripts with 95% accuracy.
It has a user interface that is highly user friendly and easy to use. Your mp3 to text transcription is done in just three quick and easy steps.
One of its key features is that it is free and highly compatible with every device, as far as there is a reliable internet connection. It also generates text transcriptions in over 90 languages and accepts not just mp3 audio but also M4A, WAV, MOV, WebM, AVI, OGG, FLAC, etc.
Media.io can also generate speech subtitles in any of the over 90 languages in its database with impressive speed and accuracy. It is one of those mp3 to text converters with many great reviews from users, the limitation being that it is only an online mp3 to text converter.
If you want to convert your mp3 file to text, Podcastle is perfect for the job. Its speech to text service is guaranteed to deliver. It uses automatic transcription software to transcribe mp3 to text in a few clicks.
Podcastle is one of those mp3 to audio online converters that are not unnecessarily complicated to use. It has a very sweet and user-friendly user interface that isn't hard to navigate at all. Basically, only three steps are required to transcribe mp3 to text on this platform. Just upload your mp3 audio file, transcribe, and convert it to text, then download your text file as either a DOCX or PDF file, and that's it.
The swiftness of its operation is probably why users love it, and also the fact that it requires no extra app to function, meaning that it does not take up space in your device. The only downside is that it only offers free transcription for only one hour of your audio, so you will subscribe to upgrade to more hours.
Veed.io is a reliable and efficient transcription tool that can be used to transcribe mp3 to text online. So, this is not for you if you are looking for an offline option. You can use Veed to transcribe your audio in MP3, WAV, and other popular audio formats.
One of its outstanding is that you can edit or make minor changes to your text file before downloading it as a TXT, VTT, or SRT file. You can also animate or change the color of your text file, an excellent feature according to users.
Veed works at an impressive speed, and you are done in just three quick steps. It is not hard to find your way around it, and although you have to subscribe to its premium features, you can get by with the free ones as most of its features are free.
Here is another audio to word converter that is highly efficient and absolutely worth any coin you pay for it. Happyscribe is an mp3 to text online converter with over 60 languages and a whopping 4.8 user rating.
It is reliable and easy to use with a straightforward-to-navigate user interface. Happyscribe allows you to import your audio mp3 file from anywhere, your local drive, or any cloud storage. It has about 120 languages, dialects, and accents.
The only downside to this mp3 to text program is that you will part with some change for full access, but it is worth it.
Its transcription service is both machine-generated and human-made. While the former has 85% accuracy and generates a transcript in a few minutes, the latter produces your text file in 24 hours because it will be transcribed by an expert and a native speaker, delivering 99% accuracy!
Flixier is one of the best AI-powered tools for anyone who wants to transcribe podcasts to blog posts, meeting to transcripts, and just about any audio to text for free. It is reliable, cost-effective, and gets the job done completely.
Its user interface is one of the simplest ones yet, as you instantly see the "Transcribe" button as soon as you open the program, and it works on any computer, old or new irrespective of the operating system.
Although it is strictly an online tool, it is almost hard to find a downside to this program as its numerous users swear by its accurate and timely output.
If you want to quickly convert your mp3 audio to text online, this free online converter tool should be able to handle it just fine. Although it doesn't have a range in formats and languages offered, it rolls out output just fine and has great reviews too.
Converter App also transcribes mp3 to text with impressive speed and accuracy. However, output speed depends on certain factors such as audio length, the speech's complexity, etc., but it will convert a one-hour mp3 to text in just 10 minutes.
It is free, uncomplicated, and does the job if you aren't looking for anything too fancy.
Notta is one of the easiest mp3 to text online converters with an interface that is easy to navigate. You can either upload your mp3 by clicking the "choose file" tab or drag and drop your audio file in the area where it is written, then start your conversion process.
One of its key features is that it supports multiple formats such as WAV, MP3, M4A, CAF, AIFF, AVI, RMVB, FLV, MP4, MOV, and NMV. It also works in multiple platforms and browsers and supports up to 104 transcription languages with a 98.8% accuracy.
Although it is free, it is only for a maximum of 1GB of audio. You will then subscribe to Notta Pro if you want more transcription quota.
Part 2. How to Convert Your Audio to Text Online Fast
We have outlined the best free mp3 to text converters online that you can choose from, but if you want to do your conversion seamlessly, here are the steps to convert your mp3 to text using Media.io.
Step 1. Upload Your Voice Files to Convert
Launch Media.io speech to text converter on your browser to upload the mp3 files you want to transcribe to begin your audio to text conversion process. You can upload them from your device's local storage.
Step 2. Start Transcribing Audio to Text Online
Choose the language you want to transcribe to and click 'Transcribe Now,' Media.io will immediately analyze the voice and generate an accurate transcript instantly.
Step 3. Download Speech-to-Text File
Your mp3 transcript is ready, and you can preview and save the text file to your device.
Each step of your mp3 to text transcription should look like this:
Step 1.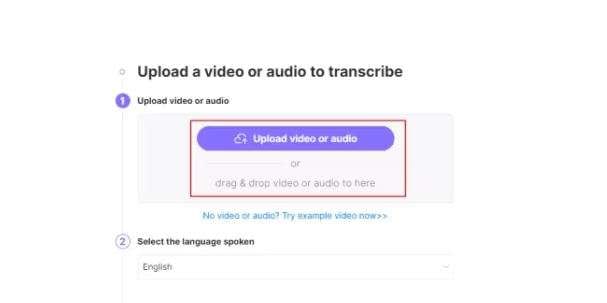 Step 2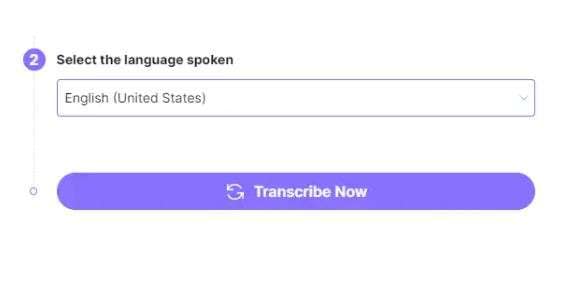 Step 3.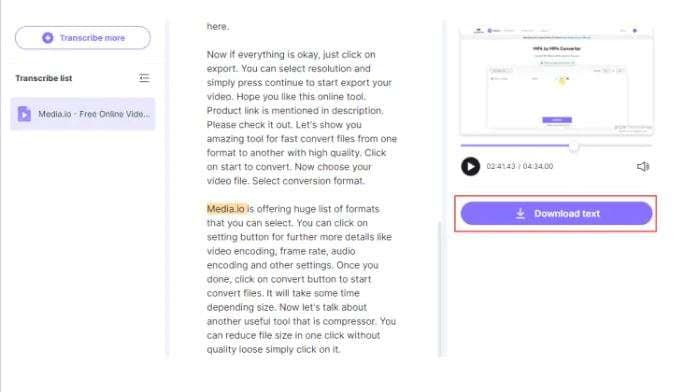 And in three easy steps, you have successfully transcribed your mp3 to text using Media.io, which is one of the many reasons it is a crowd favorite.
Remember that this converter supports over 90 languages with a modern interface that is easy to navigate and uses AI and deep ML to correctly analyze audio and video to generate 95% accurate transcripts.
If you are looking for a mp3 to text free converter online, Media.io is your best bet since it also has a wide range of language, text, and audio/video formats, making transcription easy. Just follow these steps outlined above, and you should be done in no time with well-organized output.
The Final Words
If you follow this guide strictly, you shouldn't have difficulty finding the perfect fast and free online mp3 to text converter to transcribe your mp3, podcasts, interview, medical data, and any other audio to a text file. The steps are simple, especially using the one we outlined above, and the result is impressive too.