Videos are the best way to convey information to the audience. Do you think people are attracted to the overloaded details or can text maintain the focus of the audience? Videos play a crucial role in grabbing the attention of people and giving an immersive experience. Convert the text to video to provide a long-lasting impact on the audience.
Whether you are a content creator or video editor, this article is for you. We will study the top 10 text-to-video generators, and their features and also give you a bonus that can help you to enhance creativity through converting text to video.
Part 1. The Rise of Text-to-Video Revolution
The traditional podcast was pre-recorded and could not gain the attention of the audience. Now, every content creator arranges live podcasts to interact with listeners live. The live podcast includes all the raw and unedited moments. All the conversation is unscripted and natural, which also attracts the audience. Live podcast is transforming the world of digital content by providing real-time connectivity.
The live podcast helps to interact with the audience through live calls, comments, questions, and feedback. Authenticity is the key that keeps the bond stronger between listeners and content creators. The feedback from listeners can help to check their interests, requirements, and reactions. Mistakes and touches of laughter make the podcast more genuine. Real-time engagement enables content creators to entertain their audience in multiple ways.
We often write a script for the podcast but cannot get an idea of how can we make it. By converting the text to video, you can summarize the podcast into a short video to promote it. It will include all the necessary points that a live podcast contains. Let's dig into the world of top text-to-video generators that help to enhance your creativity.
Part 2. Top 10 Text-to-Video Generators
Invideo.io helps users to create professional videos most easily. It provides a user-friendly interface with various features. It offers 5000+ ready-made templates that are further customized according to the user's preference. You can use all its functions by simple drag-and-drop. Generate a powerful AI script to transform it into engaging videos.
Compatibility: Online
Pricing: It is free to try, but the price is starting from 15$.
Key Features of Invideo:
It offers 5000+ built-in templates to create captivating videos.
Remove background from images with a single click.
Add AI avatars that automatically sync with the use of artificial intelligence.
Pros of Invideo:
It is simple to navigate.
It is free to try.
Cons of Invideo:
The free trial expires after seven days.
Lack of features in the free version.
Gen-2 is offered by Runway ML, which consists of various AI tools. You can transform your thoughts to generate AI text-to-video for your creative projects. A prompt will also give suggestions to generate a perfect AI script for the video. Enhance the resolution of the video and adjust other settings to get the best results. Its endless features help you to share the videos with anyone.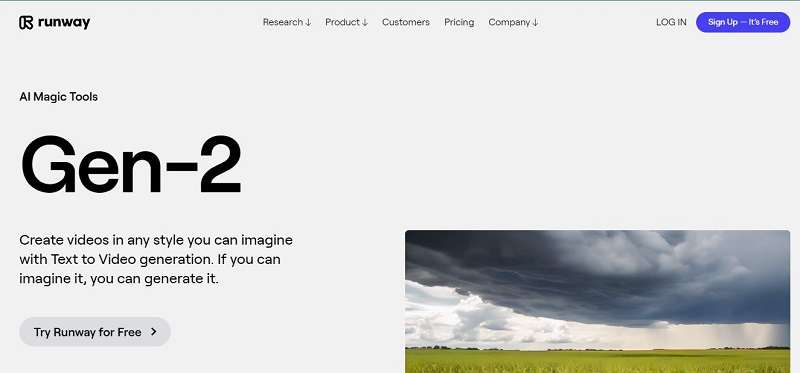 Compatibility: Online
Pricing: Its standard pricing starts from 12$ per month.
Key Features of Gen-2:
It allows users to transform the textual description into visual content.
It offers a multimodal system to create videos from images.
Storyboarding mode allows for the creation of video narratives.
Pros of Gen-2:
Its user-friendly interface does not require technical expertise.
Cons of Gen-2:
It provides limited functions in the free version.
Google has announced a new tool named Imagen Video. It depends on the cascade diffusion model. which generates 16-frame video at 40×24 resolution and moves to the other models. After passing from Temporal Super-resolution and Spatial Super-resolution models, then it generates 128-frame video at 1280×768 resolution. It can transform ordinary text into video and also transform paintings into video.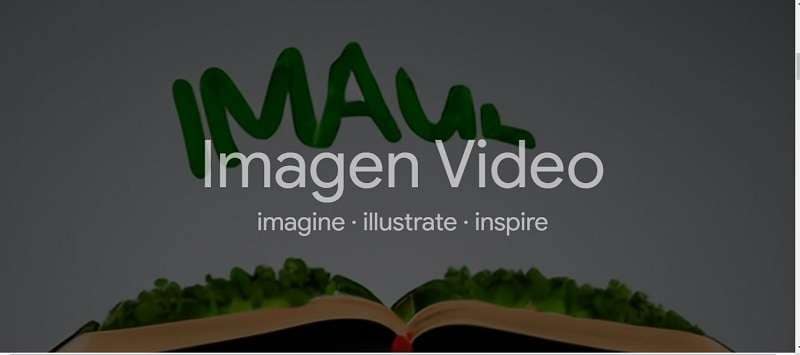 Compatibility: It supports Mac and Windows operating system.
Pricing: Free
Key Features of Imagen Video:
It combines various algorithms with AI to provide high-quality videos.
It uses the diffusion model to generate captivating videos.
It offers various text prompts and styles.
Pros of Imagen video:
It is user-friendly for beginners and professionals.
It provides a benefit to import their generated videos easily.
Cons of Imagen video:
It does not provide a range of customization tools.
Lumen 5 is a text-to-video converter that allows users to convert text, images, videos, and GIFs to high-quality video. It enables us to paste the URL from various social media platforms for high-definition videos. It does not require professional skills and generates the video in a few minutes. It saves effort because you have to add the text and click on generate to create a video.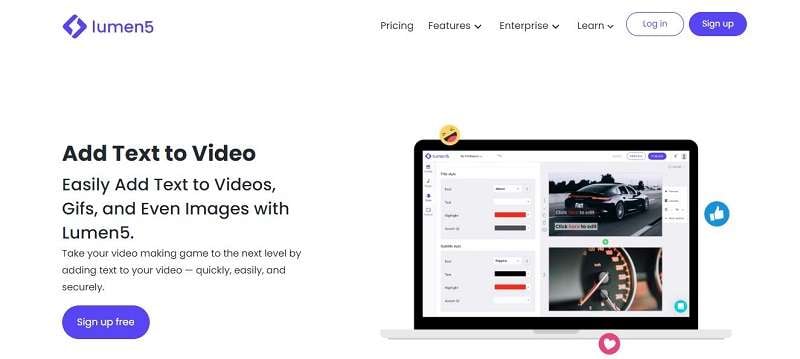 Compatibility: Online
Pricing: Basic pricing starting from 19$ per month
Key Features of Lumen5:
Transform your blog post and zoom recordings into attractive videos.
It presents customizable designs for your brand.
Add AI captions to the video so that it can be understood easily.
Pros of Lumen5:
It is easy to use.
Create videos in a few minutes and save time.
Cons of Lumen5:
It provides limited features for editing videos.
Unleash your imagination to make written descriptions into compelling videos with the help of the Make-A-Video tool. Its advanced AI technology also transforms the image into visual content. Just write a few lines and generate a colorful, attractive video. It makes the text representation 3× better to generate the best high-quality video.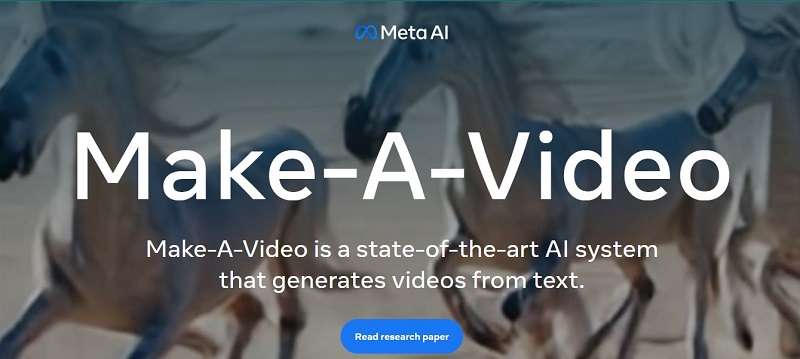 Compatibility: Online
Key Features of Make-a-video:
Transform single and pair of images to the video.
Create variations of the original video.
It exports the video in a high-quality format.
Pros of Make-a-video:
It helps to reduce the risk of generating harmful content.
Cons of Make-a-video:
It has poor customer care service.
Elai.io is a go-to platform that aims to create captivating videos with a user-friendly interface. It enables you to create videos through a blog post and articles in a few seconds. You can translate your text into more than 75 languages to target a worldwide audience. Create your account, and select a template from scratch. Add a link or text to the video builder to generate the required video.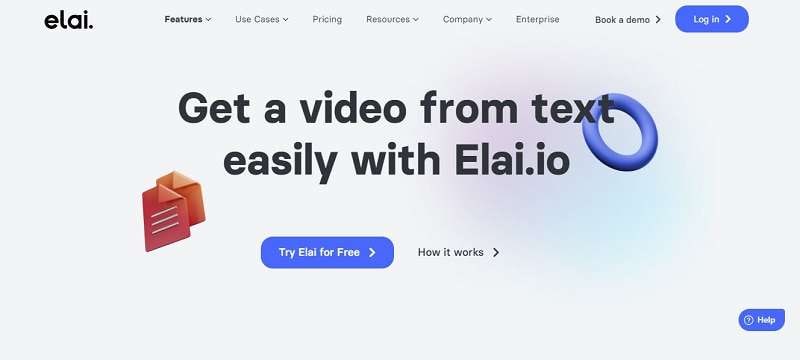 Compatibility: Online
Pricing: Free to try and basic price starts from 23$ per month.
Key Features of Elai.io:
It supports 75+ languages to attract a worldwide audience.
More than 35 Avatars are available to choose from.
Translate the videos in any language.
Pros of Elai.io:
It offers plans with reasonable prices.
It provides an intuitive interface.
Cons of Elai.io:
Its customer support service is quite inadequate.
Kapwing is designed to convert text-based content into attractive video. Write your script or add the existing document to transform it into a visual presentation. No matter the length of the text, it can easily create a professional video. Users can add text, captions, transitions, apply filters, etc. You can modify the generated video with its video editor.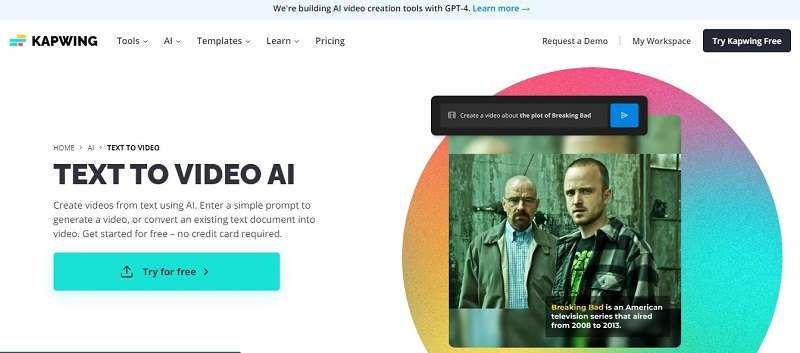 Compatibility: It is web-based tool. It also works on iOS and Android.s
Pricing: Free to try and pro plan starts from 16$ per month.
Key Features of Kapwing:
Try the Drag-and-drop options to start the editing.
Add subtitles, captions, and images to your videos.
It supports various video file formats.
Pros of Kapwing:
It provides all basic features in a free plan.
It is a web-based tool without installation.
Cons of Kapwing:
Lack of ability to create Animation and 3D models.
HourOne is an all-in-one video maker that turns every type of content into video. It turns your video into high-quality video requiring editing skills. It provides a range of languages and accents that are easily understandable worldwide. It offers a library of templates and a brand kit where you can create and customize the logo for your brand. You can easily try it for free.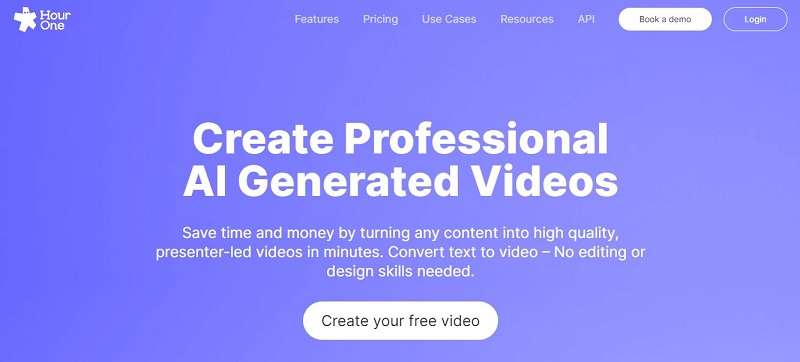 Compatibility: Online
Pricing: Starts from 25$ per month.
Key Features of HourOne:
It allows us to convert the slides, text, and prompts into engaging videos.
It offers more than 100 AI-spoken persons for video.
Add voiceovers to your PowerPoint presentation.
Pros of HourOne:
It produces high-quality videos without any professional photographer.
Fast and secure to log in.
Cons of HourOne:
The processing speed of the editor becomes slow sometimes.
Steve AI software creates animation or action videos from text. All you need is to paste the text in the script editor and generate the video. Attract the audience by converting the blog into a video. It allows you to generate one or many videos from one blog post. Select templates and AI avatars to gain the attention of listeners.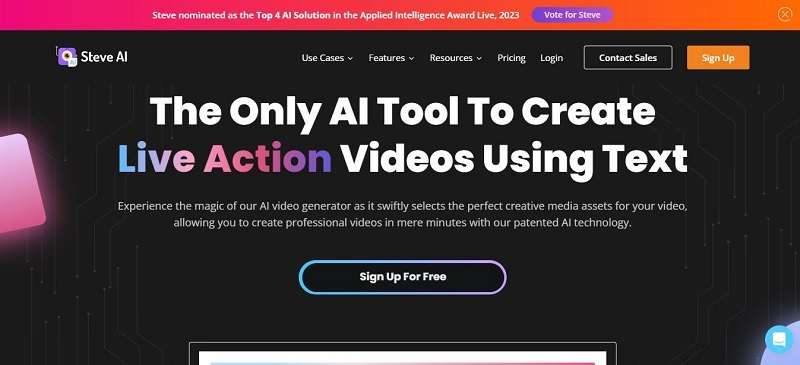 Compatibility: Online and works on every device.
Pricing: Basic plan is starting from 15$ per month.
Key Features of Steve AI:
Transform ordinary photos into captivating videos.
Convert the blog post into engaging videos.
Customize the video templates according to your requirements.
Pros of Steve AI:
It provides a user-friendly interface.
It offers an extensive range of ready-made templates.
Cons of Steve AI:
It has limited customization options.
Picsart is a video or photo editor that uses AI technology to transform text prompts into visually appealing videos. It offers various AI tools such as AI photo editing, image generator, writing assistant, background, avatar, etc. It enables to add audio, text, and subtitles to the video. Just describe your scenario in short videos and let the software do the work.
Compatibility: Online
Pricing: It starts from 5$ per month.
Key Features of Picsart:
It helps to enhance the clarity of the images with artificial intelligence.
Remove background from images with one click.
Create dynamic GIFs through the AI GIFs generator.
Pros of Picsart:
It has various editing tools.
No watermarks on videos in the free version.
Cons of Picsart:
It has limited exporting options.
Bonus Tip: KwiCut: Enhance Your Voice Video with AI Technology
Do you know why most people don't take an interest in reading newspapers? It is because it is time-consuming and looks boring with just text. Videos help to gain people's attention and encourage them to watch it till the end. KwiCut is a software that is integrated with ChatGpt 4.0. It allows the conversion of text, video, and images into a captivating video.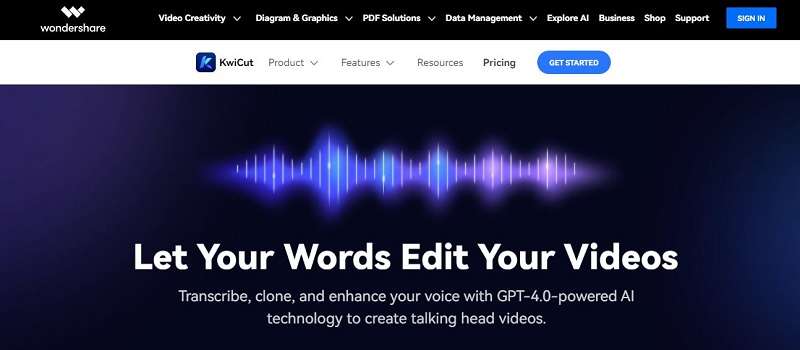 Compatibility: Online and also supports Windows. It will also be compatible with the Mac version in the future.
Unique features of KwiCut:
It is integrated with ChatGpt 4.0, which helps to enhance the quality of audio and video.
It uses noise cancellation algorithms to remove extra noise from the audio.
If you want to edit your podcast files, add subtitles and captions to your podcast to cover the worldwide audience.
Conclusion
Text-to-video is a great way to communicate and engage with the audience. In this article, we have looked at how text-to-video transforms boring stories into captivating visuals. We explored the top 10 text-to-video generators with their unique features and pros and cons. We have given you a bonus tip to enhance your editing skills. KwiCut is a user-friendly software that uses advanced artificial intelligence to enhance the voice.