Great audio is the greatest part of a presentation, and it is important that the audio does not clash with visuals. Without a dedicated studio to record quality audio, finding a tool that can capture audio without environmental noise becomes necessary.
Adobe podcast enhancer includes an online audio editor for users looking to improve the sound quality of their voiceovers and audio recordings. The Adobe voice enhancer promises to clean audio recordings through the magic of AI. This is important to enhance low-quality recording, remove noise and improve voice recording in no time, changing pitch and volume levels.
In this guide, we will take you through every aspect of Adobe Audio Enhancer, exploring its features, functionalities, and how to make the most of this innovative software.
Part 1. What is Adobe Audio Enhancer?
The Adobe Audio Enhancer is an advanced software that improves the quality of voice recordings. It eliminates noise from the background, giving the speech clarity. This is perfect for mixing and mastering audio content. The Adobe Premiere Pro Essential Sound panel includes automated audio clean-up tools that remove reverb and allow users to adjust the levels of other vocals like music. It also provides easy cloud sync for all audio after recording.
The Adobe audio enhancer was made for professionals, videographers, content creators, and voiceover artists who urgently need to enhance the quality of their content and remove reverberations. It aims to give creators using this AI-based feature a result worth their time by helping with file storage, sharing, vocal adjustments, and AI.
Otherwise known as Adobe AI audio enhancer or Enhance Speech, it has been praised for its amazing features based on AI:
An audio panel that allows users to classify audio as voice or music
An advanced panel that lets users adjust controls
AI technology that fixes background noise and uneven volume levels
Auto Volume for consistent sound or recording balance
Enhances Speech
The filter can detect and remove errors in the audio recordings like stutter, misspelled words, and other destructions.
Limitations:
1 recording per hour
Muffled sounds
Limited 3-hour recordings
Incompatibility in singing
Pricing:
Adobe provides flexible pricing options to cater to different needs and budgets. Adobe Audio Enhancer is available through a subscription model, with various tiers to choose from. The pricing plans include a range of options, such as monthly or annual subscriptions, catering to both short-term and long-term requirements.
For individuals, Adobe offers affordable plans that grant access to the full suite of features within Adobe Audio Enhancer. Additionally, students and educators can benefit from discounted pricing, making the software more accessible for educational purposes.
For businesses and organizations, Adobe provides tailored pricing plans to meet their specific needs. These plans often offer additional features and benefits to support professional audio production workflows. You can use the Adobe Audition trial for 7 days free, but you will need access to more features and a creative cloud plan.
Here are some prices of the Adobe Audition feature:
The single-app license costs $20.99 per month
The Creative Cloud all-app plan, which gives access to Adobe's creative application, costs $52.99 per month.
Part 2. How to Enhance Audio Online with Adobe Podcast Enhancement Tool?
By leveraging the intuitive interface and advanced algorithms of the Adobe Podcast Enhancement Tool, you can transform your audio quality and deliver a professional-sounding podcast to your audience. This section will show how to enhance audio online with the Adobe podcast enhancer.
Step1

Launch the Adobe Audio enhancer web application on your browser.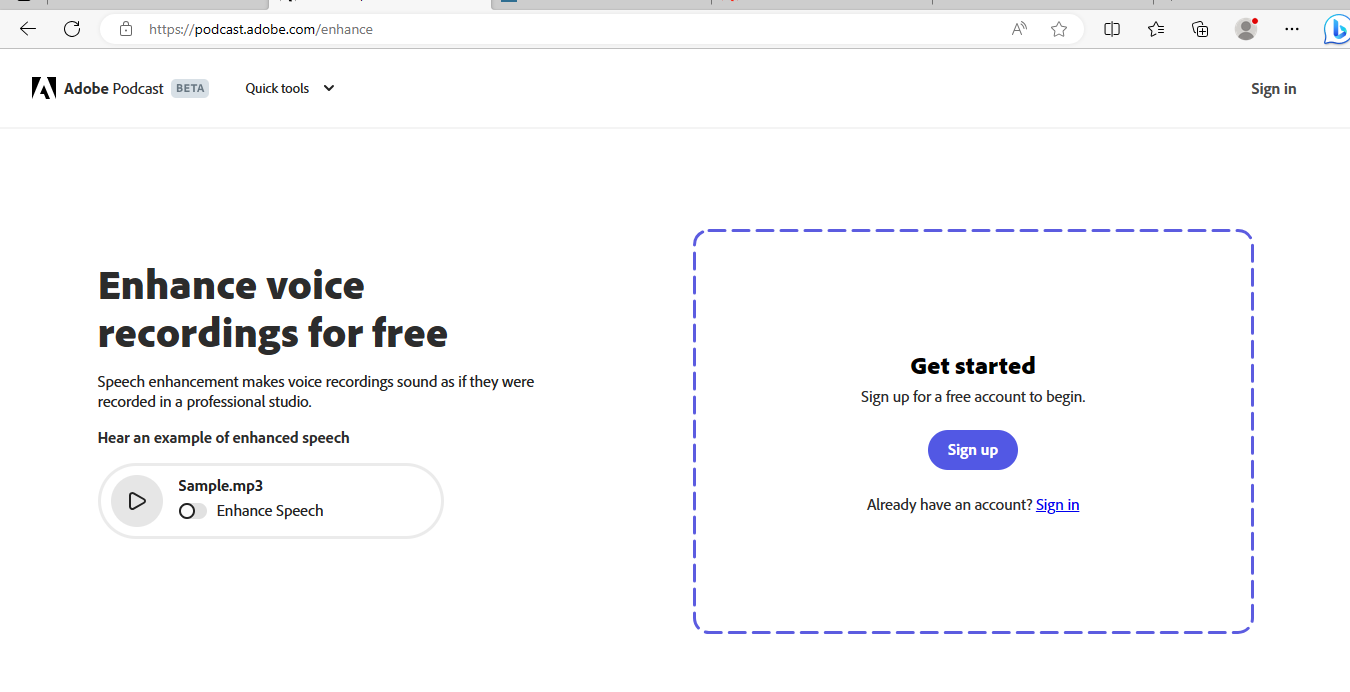 Step2

Sign in or create an Adobe account with your Google, Facebook, or Apple ID.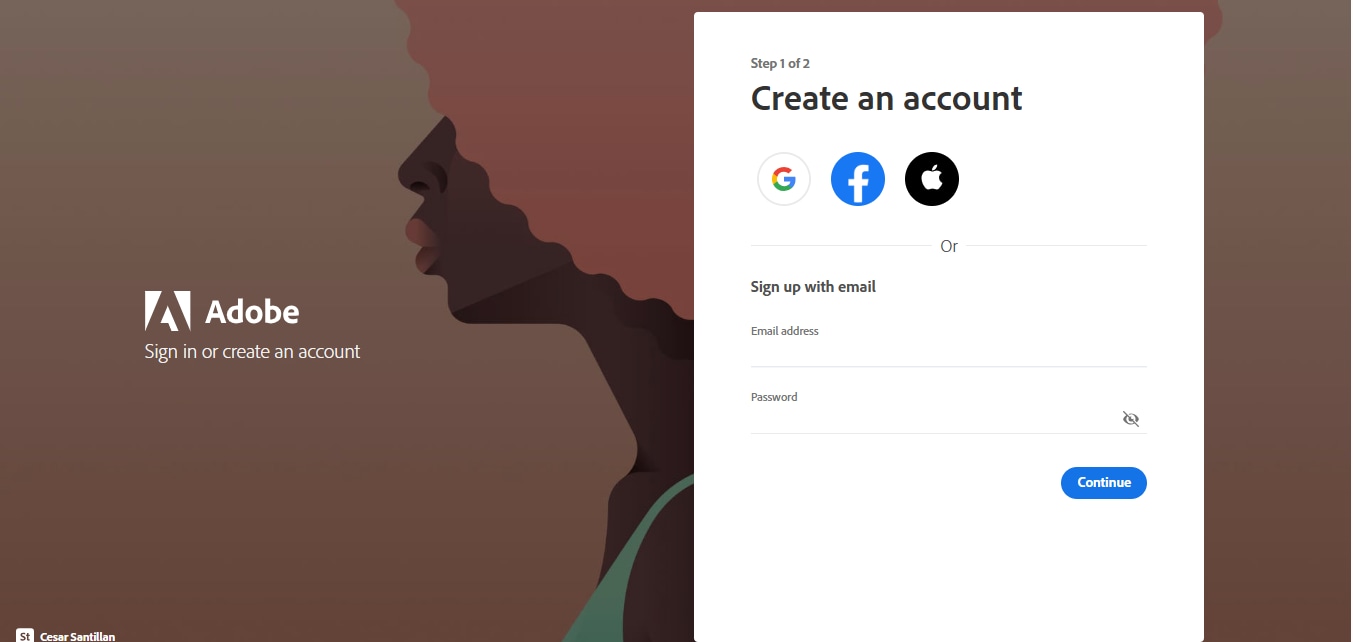 Step3

Import your audio file and let the tool start processing.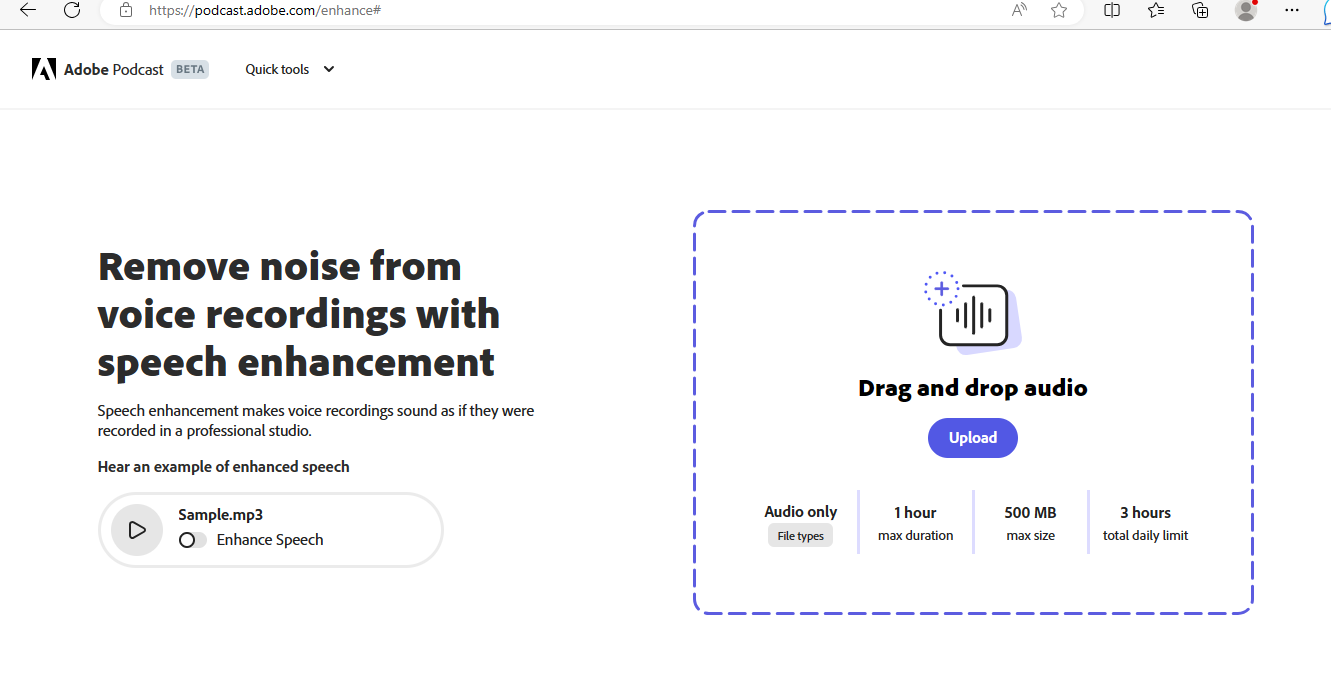 Increase or decrease the volume by adjusting the clip volume slider. You can also classify the audio as voice, music, or other and adjust controls in the advanced panel.
Choose auto volume for consistent sound or balance sound to boost quiet sounds and reduce loud sounds, then use spectral frequency display to visualize your audio noise and edit the frequency ranges precisely using the Brush. Once the process is complete, simply tap Download to export the high-quality speech file to your device.
Part 3. More AI Audio enhancers like Adobe Podcast
The Adobe Podcast is a good tool that makes production easier and faster. It is a wonderful app for audio enhancement. Besides the abovementioned tool, Adobe boasts of other enhancement tools like Audition and Premiere Pro.
Adobe Audition provides a software tool to edit your audio features, improving audio quality. It is a digital audio workstation featuring a multitrack, non-destructive edit environment.
It accelerates video production workflow and audio finishing. Adobe Audition is perfect for content creators. It is a comprehensive tool with waveform and multitrack for editing and restoring audio.
The tool has a trial period allowing you to test all the features before buying the subscription. Adobe Audition features a business-like dashboard with no fancy icons. The software lets users and content creators add color to individual audio files for personal preference.
You can use its autotune feature to enhance your singing or monotone voice. You can also use a plugin to adjust the waveform and achieve your desired sound.
The latest version has with a one-click plugin that automatically removes unnecessary echo or reverberation from audio files. Adobe Audition helps users in recording and editing audio.
It also offers edit preview, speech alignment, assets relinking, custom channelizing, frequency splitting, and other functions.
You can also use professional audio editing software to adjust volume and sound and delete or hide tracks to focus on a singular item.
Premiere Pro is known to be one of the best production and editing tools because of its impressive feature-packed, reliable editing software. You can use this tool with a monthly subscription and a free 7-day trial. It allows you to stand out on social media. Premiere Pro provides accurate captions for the moment, offering you a wide range of visual effects and free graphics. It costs US$20.99 for one person, while for teams, it costs US$35.99 per license.
Premiere Pro offers a series of possible text options for captions and titles. You can even import SRT or XML files. The program also supports a huge font size selection, along with the standard Adobe Typekit fonts.
You can also choose leading, rolling, texture, opacity, rotation, and other options. And just like Photoshop, you can apply shadows and strokes to the font size, making them more striking.
Having examined everything about premiere pro, we can say it is a state-of-the-art video editing and production program. It gives all the tools and features to create striking, stunning, and beautiful visuals.
The Best Alternative to Adobe Speech Enhancer – KwiCut AI Noise Remover
Sometimes we have unwanted background noise in our recordings. The KwiCut speech enhancer is a free AI software that immediately detects noise in your audio recording and removes it instantly, leaving it with studio-quality sound.
KwiCut is a professional audio editing software used to fine-tune audio, vocals, and sound effects. It removes unwanted sounds like wind, rain, spoon, plate clatter, and more.
Compared to the Adobe podcast tool, KwiCut has more stunning features like automatically transcribing the podcast audio or video into text scripts and allows editing further. You can also generate natural-sounding voice based on the input text, and much more.
How to Enhance Speech Online with Adobe's Alternative?
Step1

Upload your audio recording to KwiCut.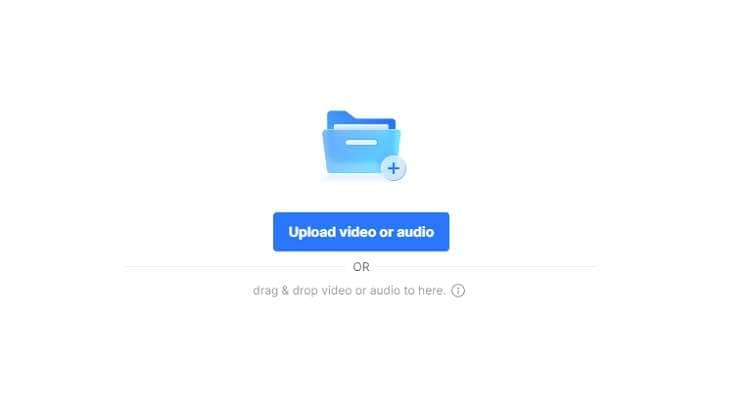 Step2

Tap on Studio Sound button, choose Remove Noise tab and start cleaning.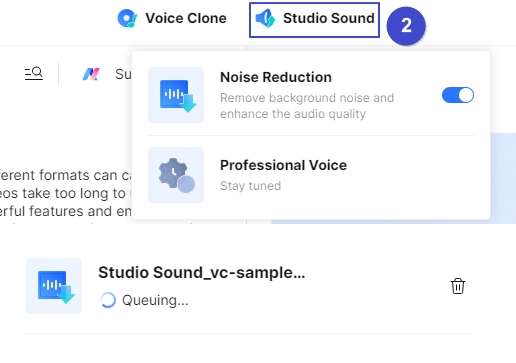 Step3

Download the enhanced audio in MP3 file.