One of the most outstanding benefits of AI video generators is how much time it saves content creators. Because they are trained on massive collections of video content, they can mimic successful videos and use the pattern and algorithm to create entirely new content in minutes.
We can talk all day about AI's benefits in video creation and editing, but you already get the point. So, let's find the best AI video generators to jumpstart your career and boost your brand.
The 10 Best AI Video Generators [Worth Trying]
You will find as many as possible AI video generators online when you go searching, but that doesn't mean that any random one you pick will give you the result you need. So, we have taken the time to round up the top 10 AI video generators worth trying.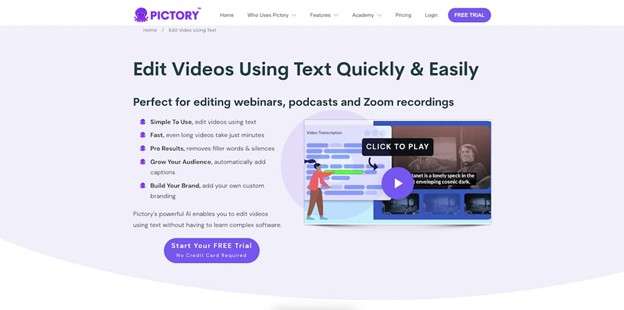 First on our list is Pictory, an excellent AI video generator highly sought-after by creators and marketers with little to no experience in creating video content. Pictory makes it easy for people who are new in the Video creating scene to materialize their creativity by simply providing a script or an article to guide your video content.
For instance, if you have an article or transcript for content you want for your social media page, webpage, or blog, submit it to Pictory, and it will create video content based on that article. It is also equipped to caption and summarize your videos automatically.
You can also use Pictory to edit videos in a matter of minutes by using text, and it also has a feature that enables you to create shareable video highlight reels that you can use as video snippets, trailers, or some short video for your brand or social media!
Prices start at $19 per month, and with Pictory, you can easily convert your blog post, speeches, and any script into a realistic video, and the best part is that you don't need any prior video-creating knowledge to use it.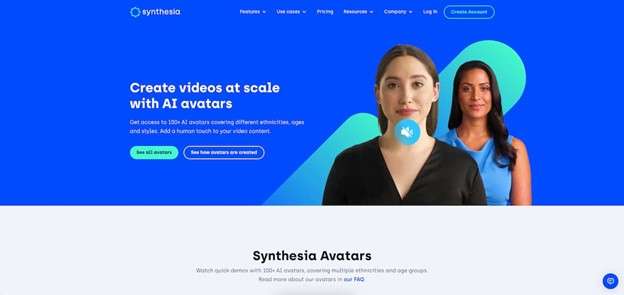 Synthesia is an incredible AI video generation platform that can create videos in over 120 languages, accents, and voice tones. It also has more than 150 diverse stock AI avatars that users can choose from to represent their brands in videos. They can also custom-create their AI avatars if they want.
Some other excellent features it has includes text-to-speech. This allows users to type in texts that will then be converted into professional voiceovers. Also, users can clone their voice and match it with their AI avatar in Synthesia.
Synthesia is currently the best choice for brands looking to create videos that will have a host or stand-in for on-air talent, and prices start at $22.50 monthly.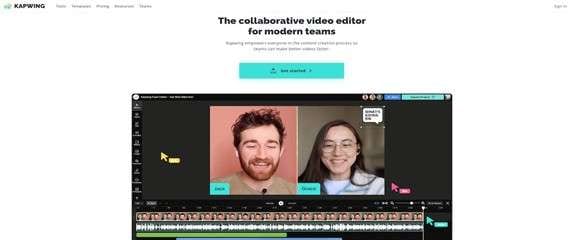 Kapwing is an online platform offering comprehensive features when it comes to creating and editing multimedia content such as videos, images, and GIFs. It is not shy of tools to fuel your creativity, such as customizing visual content, editing videos, generating memes and subtitles, resizing images, etc.
It is a user-friendly platform and requires no previous knowledge or experience in graphic design or video editing. It is popular for content creators, social media managers, and brand marketers looking to push visual content without going through unnecessary hassles.
Its key features include text, image, and audio customization options, subtitle and caption generation, and a drag-and-drop feature. It also offers various editing tools for trimming, cropping, adding filters, etc., and a wide range of video format support.
Kapwing offers a free version that grants you access to its essential features and a paid version with more advanced features making it suitable for all budgets.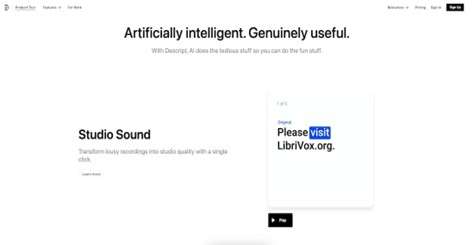 Descript is a multimedia editor that works a little differently. It is built around its ability to transcribe audio/video to text, and users can edit their media files by editing the text in the transcript, which will then reflect in the multimedia file.
Although the edits may require a bit of tightening up, it is intuitive for non-producers, and it comes with a few other AI-based tools, such as voice cloning to match the current speakers, echoes and background noise removal, and green screen effects. Descript also has non-AI tools, including basic video hosting and screen recording for walkthrough and explainer videos.
There are three different Descript packages: Free, Creator, and Pro. The Free package allows 1-hour transcription edits and a 10-minute length for green screen and studio sounds. The Creator package gives you 10 hours of transcription edits, unlimited exports, 4K resolution, and a 10-minute length for green screen and studio sound. This package costs $15 per month per user, while for $30 per month per user, you get 10 hours of transcription edits and unlimited everything else.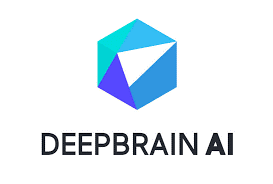 Deepbrain AI is another AI video generator that uses the text-to-speech method to generate videos. Users can create realistic videos by uploading their script and using the text-to-speech feature, and the platform will then generate a video within five minutes.
It also allows you to manually type in the script or copy and paste it into the platform; you have to select the correct language and AI model and then finish the editing. One of its key features is allowing users to choose a custom-made avatar representing their brand.
Deepbrain's intuitive and user-friendly platform makes it easy for beginners and an excellent choice for non-pros with little or no video creation or graphic designing experience to design quality and studio-grade content with no qualms.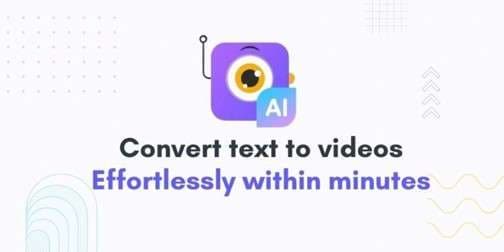 Steve.ai is another AI platform with tools that makes it easy for anyone to generate videos and animations in little time. Its in-built technology and unique media library make it easy to turn your text into videos, providing your brand with relevant visuals as quickly as possible.
You can also use its media asset with up to 100 million high-quality photos, videos, and audio files to boost your video and select any of its in-built templates to create any video you like. The best thing about its AI template feature is that it covers many genera, including cultural videos, social media, corporate, educational, marketing, training, news, and editorial videos.
The pricing for Steve.AI starts at $9.0 per month. It has 3 different plans, Basic at $9.00 per month, Starter at $30.00, and Pro at $40.00 per month. It also has a free plan with limited features and an Enterprise plan.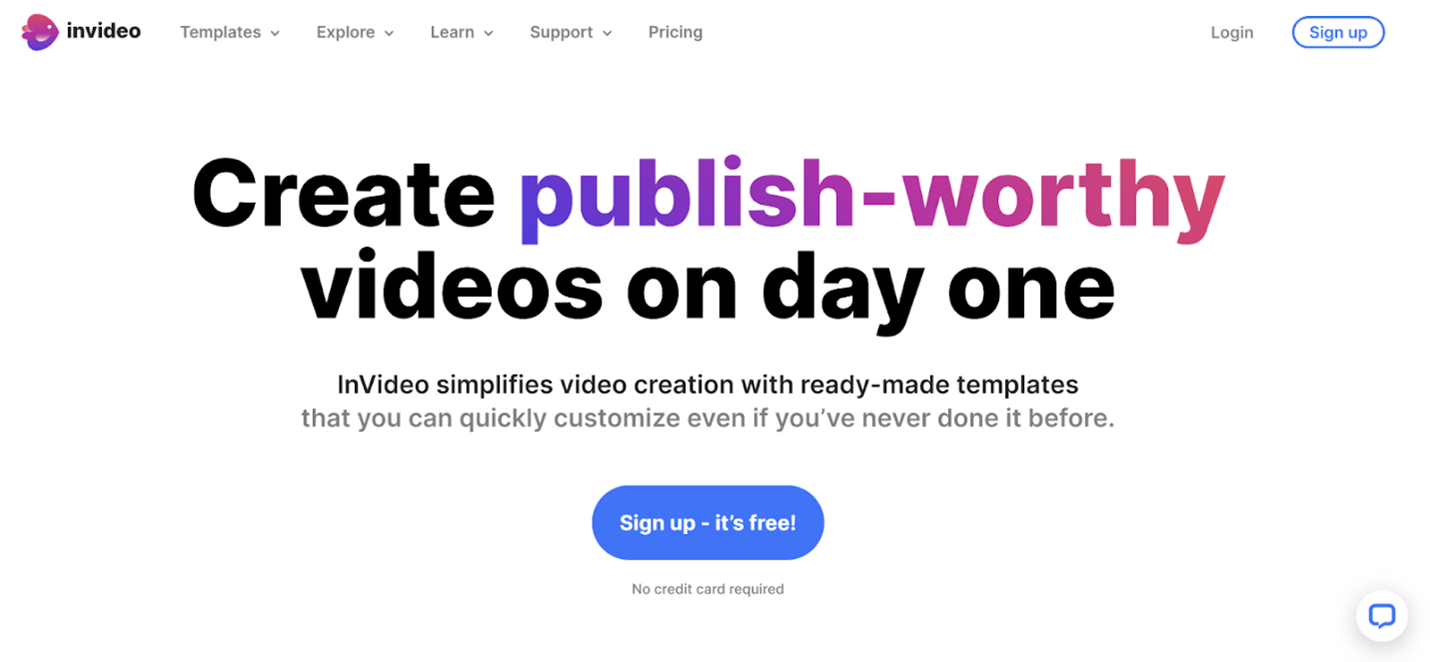 InVideo is another excellent video generator that requires no previous experience or know-how in video creation and graphic design. Like some AI video generators in this list, it creates video from input text, and the platform has a range of top-quality and professionally designed and animated templates you can choose from.
One of its best features is the ability to quickly create and share videos on social media. All you need to do is input your text, pick a customized template, let the AI platform generate your video, and then download the finished video. You can also share your videos to your social media directly from InVideo.
It is free to use and has plans starting at $15 per month, with features that let you create watermark-free videos for your brand.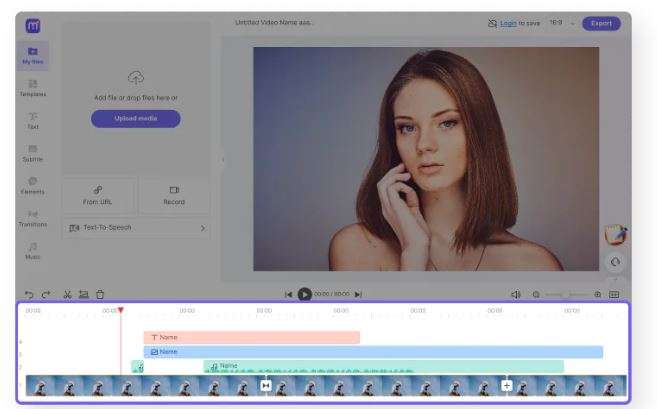 Media.io is one of the best free online video editors for video marketing. It leaves no watermarks, supports all standard file formats for importing and exporting watermarked video and audio files, and allows you to share edited video directly to various social media platforms and sign up to export watermark-free video in resolutions of 480p, 720p, and 108p.
One of its outstanding features is its compatibility with many devices, browsers, and operating systems, including Windows, macOS, Chromebook, Android, and iOS mobile phones, and all your projects are saved and synced online.
Whatever the project is, you can create a video to fit the requirements of different aspect ratios used by various social medial platforms. This feature is great for optimizing your videos across multiple platforms.
Media.io is entirely free!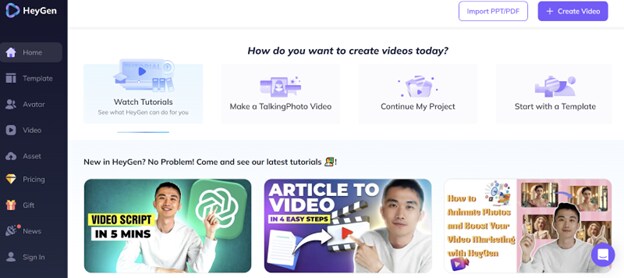 HeyGen gives you a wide selection of helpful tools and features for generating quality videos in minutes. It has over 300 voices available in over 40 languages that you can choose from. You can also design a custom avatar that you can upload and match your voice to via recordings.
Although the steps are easy, HeyGen provides easy-to-follow video tutorials that further explain the process, answer common questions, and make the experience fun.
It also lets users use its face swap features to personalize their avatar, and you get a free use for one minute daily. Any need for more prolonged use means you will subscribe to the paid package, which starts at $48 per month.
Last but definitely not least on our list is Veed.io, an excellent AI video generator. With Veed.io, you can use custom text, colors, fonts, and music to create a unique video for your brand marketing goals.
One of its outstanding features is the Auto Transcribe, which lets you upload the video and download the script immediately when you click the Auto Transcribe button.
Veed.io needs no additional Software download to work, and it is effortless and straightforward, especially for users with no video creating and editing background. It is also free for videos under 10 minutes, but pricing starts at $18 monthly if you want to access more features.
Users love it because it is efficient, transcribes videos fast, and creates unique content!
Conclusion
You can now see that with these AI video generators, you don't need an experience or background in video creating, editing, or graphic designing to create unique and excellent content for your brand because AI takes care of almost everything. Tell the AI video creator what you need, and watch it go to work.