When working in media such as video message recording, podcasts, speech recording, and editing, etc., you will most likely encounter awkward silences in the recording and editing process, and they honestly don't make your work sound as professional as possible.
These awkward silences may result from frequent pause and play during recording sessions for any number of reasons, and when you eventually get the final draft, you will notice that you don't have a smooth file. They can also happen when you remove word fillers and unnecessary phrases from an audio file, leaving you with gaps and odd silences in the middle of an audio track.
As we said, silence in an audio or video file could occur for several reasons, including a glitch in the recording, etc.; however, they do not have to make it to your viewers and listeners, and they honestly shouldn't because they can be off-putting and distracting.
This brings us to the goal of this study, to help you eliminate these silences from your audio and video files using the best possible silence removers online. We shall closely examine 7 audio/video silence removers, their features, ratings, how they work, etc., to help make your editing job easier.
Part 1. Top 7 AI Silence Removers Online
one way to ensure your viewers and listeners are engaged every time you share a video, podcast, etc., is by consistently putting out professional-grade content. This means no unnecessary background noises, echoes, reverberations, or awkward silences.
And to do this, you must ensure you are working with the best silence removers, in this case, AI-based! We say this because AI-powered audio silence removers are designed to detect and delete sections in an audio/video file that meet the criteria for silence. They are made to help simplify your editing process to a great extent and have higher accuracy too.
So, here are the top 7 AI-powered silence removers online.
We now know that removing pauses, silences, and gaps from an audio file takes quite a long time. Still, in three easy steps, Kapwing promises to slash that time in half or even more by automatically detecting and removing them for you.
This online audio silence remover also equips you with a silence sensitivity sliding bar that allows you to adjust the silence threshold, multi-select each gap, and delete all of them simultaneously. It is directly in your web browser and requires no additional software download.
Kapwing comes highly rated, and it is easy, accessible, online, and free to start with access to features such as unlimited export with watermark, exporting videos up to 4 minutes long, using the audio subtitle for 10 minutes/month, and 720p video quality. You can either upgrade to the Pro or Enterprise package for more time and functionality.
Step 1. Upload your file
You can upload your file to the platform from your device or copy and paste its URL link.
Step 2. Apply "Smart Cut."
Select your audio layer, then click the "Smart Cut" tool in the right-hand sidebar. Next, adjust the silent gap threshold and remove any pauses automatically!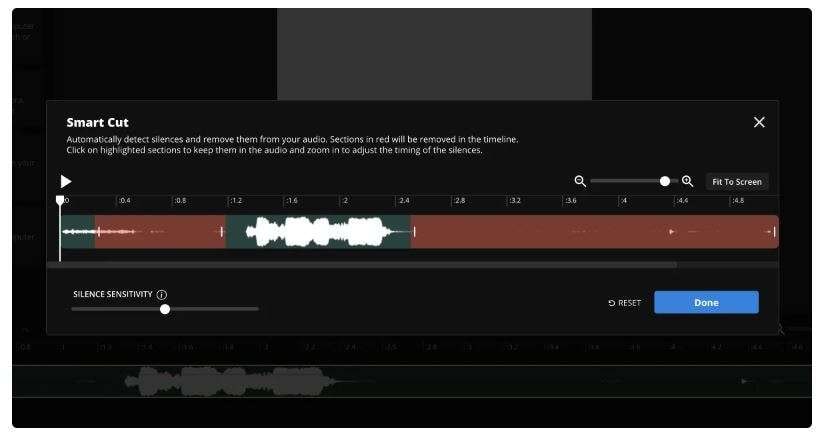 Step 3. Export and download.
You can now export and download your audio file without gaps and silences. You can also continue to edit your audio file by adding visuals like an audio waveform overlaying an image, background music, or sound effect.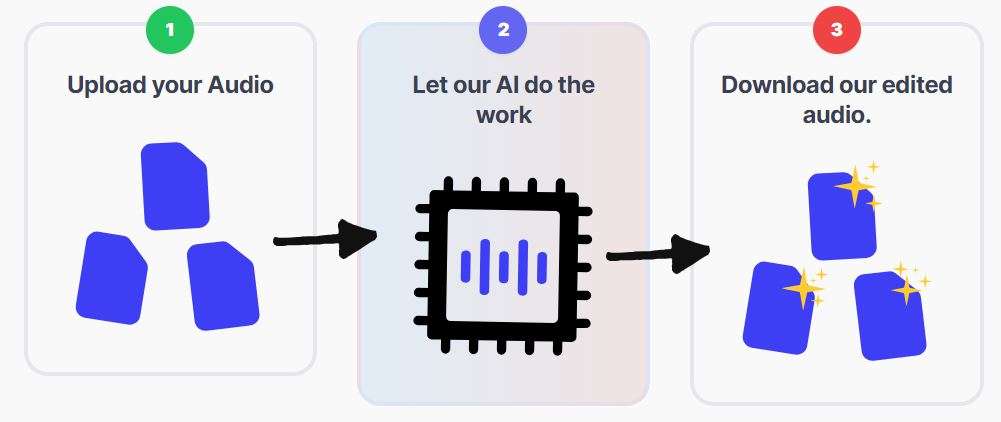 Cleanvoice is another AI-powered for removing long silences and pauses from your podcast audio recording to make your content more professional and engaging. It uses a Dead air remover to identify and shorten too-long silences to keep your audience engaged.
Cleanvoice works in a context-based manner. For instance, when a speaker is thinking, it makes the pause short and longer if the speaker changes the topic to keep the flow as natural as possible while keeping your audience engaged.
It comes with a 30-minute free trial with no credit card required; then, you can upgrade to the monthly subscription or pay-as-you-go package. It is easy, accessible, and doesn't take time. First, upload your audio, let the AI-powered silence remover do the work, then download your edited audio file, and you are done!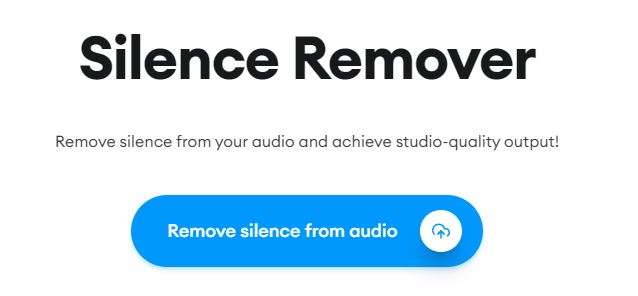 With Veed, you can instantly achieve professional-quality audio of your recordings. Its online video editing suite features handy AI-powered software that instantly removes silences, gaps, awkward pauses, and even echoes and background noises from your audio file in one click.
It also has extra features such as editor's pro tools to split, trim, and rearrange audio clips. It is the perfect companion for creating studio-quality podcasts, audiobooks, etc. It is compatible with many audio formats, such as AAC, FLAC, M4A, MP3, OGA, OGG, OPUS, WAV, and WAVE.
Veed has many great reviews and is free for one-off projects under 10 minutes, but if you need more hours and features, you will upgrade to the Basic, Pro, Business, or Enterprise package.
To remove silence from your audio using Veed, upload your audio file from your device, click the "Remove Silences" button on the left panel on the screen, then download and save it to your device.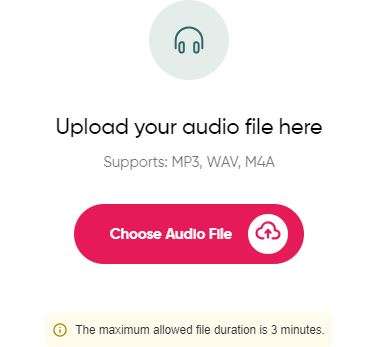 You can automatically remove all silent segments and long pauses in your audio tracks with a single click using Podcastle's AI-powered silent remover.
Podcastle is an AI-powered audio and video creation platform that helps professional and amateur podcasters create, edit, and release production-quality podcasts in seconds. It is a fast and easy online tool that is adaptable to any device and operating system and needs no additional app installation to work.
It begins with a simple process of uploading your MP3, WAV, or M4A to the silence remover tool, which will automatically detect any gap and silence in the track. Once uploaded, right-click the segment you want to edit and select "Remove Silence." It is that easy.
Veed silence remover only allows a maximum of 3 free minutes. Still, you can subscribe to paid packages such as Storyteller and Pro, which gives you more functionality and time to edit your audio file.
Wisecut is an AI-powered tool for processing and editing videos online, such as automatically removing silences in a video and generating a transcript by processing the audio in your video file. It has an intuitive interface allows you to process your videos and then export them to your PC. It also allows you to add adaptive background music to the video.
Wisecut features an AI storyboard, YouTube integration, and auto-cut story. It is very easy to use. Upload your file and specify the action you want to take; processing time depends on what you want the AI to do for you. It will then generate the final video that you can now download.
Wisecut has a free plan but is somewhat limited as you can only process 45 minutes of videos in one month. You can upload 1GB and 30 minutes maximum of videos per file.
Step 1. Upload your video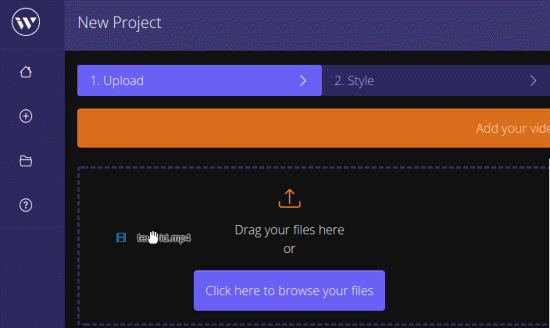 Step 2. Specify functions
Now, specify what you want to do, and if you want to remove silence from your uploaded files, turn on the "Auto Cut Silences" option under the "Create" tab.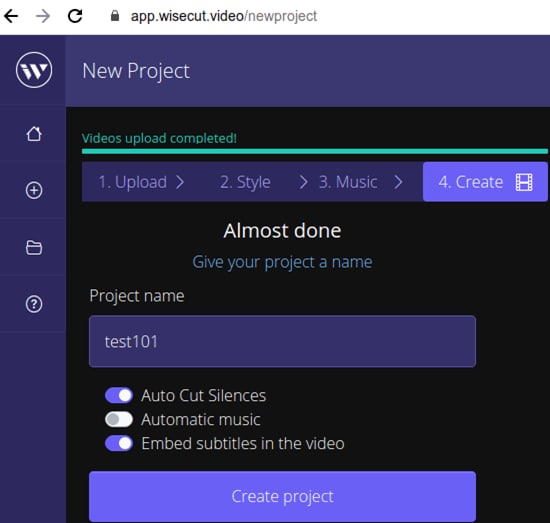 Step 3. Wait for your video to be processed
Now, you have to wait for Wisecut to process your video, which will notify you when it is done. It will also open the processed video on an AI storyboard.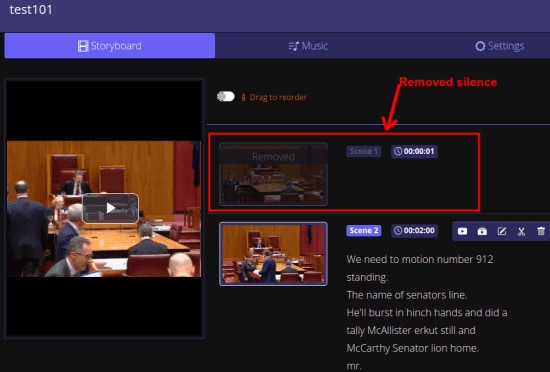 When it is done processing your video, you can review everything; if it is to your taste, you can now export your project.
This tool is excellent for occasional use, but it is best to subscribe to the premium plan if you plan to use it daily.
Video Silence Remover is an AI-powered tool that automatically detects and removes silent parts in your videos. It makes the editing process streamlined and easy and improves the quality and pacing of your content. It is widely used to create YouTube videos, podcasts, webinars, online courses, and other content.
VSR uses an advanced algorithm to correctly analyze your video's audio track, detect any awkward silence, and remove them instantly without disrupting the flow of the video. It also has other settings that can be customized to create professional-quality content according to the user's preference.
File types supported by VSR include MP4, MOV, AVI, and WMV, and it offers a limited trial for users to test its strength and capabilities. You can then upgrade to subscription plans and access its advanced features. One of its most outstanding features is the ability to handle bulk processing, making it the perfect choice for commercial and professional use.
First, upload your video file by clicking the "Upload Video" button or using the drag-and-drop feature. Next, adjust the sensitivity setting to detect and remove silent parts according to your preferences, then click "Process" and wait for the AI tool to detect and remove the silent parts in your video. You can review and download your edited video.
SavvyCut is a silence remover that uses AI-based speech detection to remove pauses and awkward silences from a file and automatically creates jump cuts for you. Due to its smart algorithm, it doesn't need to re-encode your complete video, which means you get instant cuts that cause no reduction in the video quality.
SavvyCut works not only on a desktop computer, but you can also record and remove dead air and silences with your Android and iPhones using SavvyCut. It requires no additional software installation to work.
It is very easy to use. Launch the program on your browser, upload your file, select where to cut, then preview and save your file.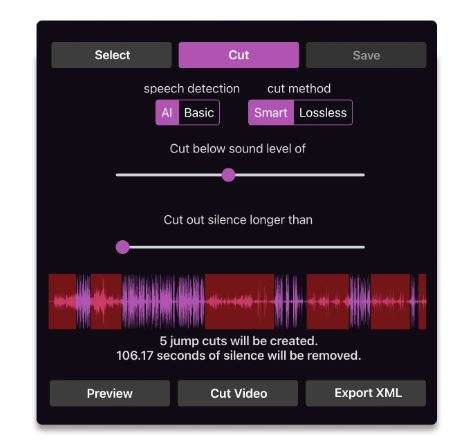 This highly rated silence remover has a free package that gives you access to most of its features and an $8 monthly premium package (that starts after the free trial ends) with even more improved features for your video creation and editing.
Part 2 "People Also Ask" - Audio Silence Remover
1. How to remove silence with Adobe Premiere Pro?
Adobe Pro is another excellent silence remover for creating studio-quality and professional-grade tools. It has a wide selection of editing tools to refine and fine-tune your videos.
Before using Premiere Pro to remove silence, you will switch to Adobe's Digital Audio Workstation (Audition). There you can import the video you want to edit and click on Window to open Diagnostics, where you can now choose the Delete Silence option from the Effects tab.
This will now permanently remove any silence by deleting any silence and low audio parts in your video, depending on what you defined as silence in the settings.
Although Adobe Premiere Pro is a good silence remover, it has long and cumbersome steps when you get down to it, and when compared to the seven AI-powered tools we described above, it is more complicated.
2. Can I eliminate audio silence while leaving gaps?
With the right tools, you can do this. Most times, when audio silence is removed from a file, they become squished together and don't sound natural, which is why it is important to find a good silence remover that not only eliminates audio silence but also creates a one or two seconds gaps so that the track sounds as natural as possible.
3. How to remove noise from audio in batch?
You can easily remove audio in batch just as you would a single track. The most important thing is finding a silence remover designed to do so and upload as many tracks as it enables and follow the steps presented.
The Final Thoughts
The better content you have, the better growth you will experience in your content-creating field. So, do not let audio silence hold you back from greatness. You can start with any of the described above and edit your audio and video content to perfection!