Podcasts grew in popularity during the pandemic and continue to be a growing source of education and entertainment. With the number of resources and tools available for creators, it has always been challenging to launch a podcast, but choosing the right software for the perfect audio quality can take time and effort.
Poor audio quality can give an impression to your audience that an amateur created the podcast. This often results in losing trust in your content's credibility, accuracy, and quality. Owning high-quality audio helps you sound like a professional, and heightens the listener or audience experience, thus increasing the listener's engagement and recommendations. It also reduces the audio recordings' distractions and creates a welcoming feel allowing your listener to sit, relax and enjoy the podcast.
We have tested several podcast audio editors, and you will see the 12 best free podcast editing software best for all podcasters.
Part 1. How Do We Choose the Best Podcasting Editing Software
A good podcast editing software should be simple, save files online, automatically adjust audio, and have multichannel functionality with many editing tools like mixing and trimming. Great podcast audio editors also include automatic noise removal or background noise removal features with the capability to edit video visuals.
Different podcast editing software share additional capabilities to suit the needs of each podcast creator. To choose the best podcast audio editor, we had to consider factors like ease of use, price, core features, compatibility, and G2 ratings, along with ratings from users.
Ease of Use
You can do other things and create more content besides podcasts. There are many decisions, marketing strategies to learn, equipment to get, scripts to be made, and episodes to create intros and outros for. A podcast editing software should be easy to use and time efficient. A great podcast editing software should be right for your skill set, whether you are a beginner, audio professional, or in-between.
Price
We considered the price of each podcast editing software and selected those that creators can find budget-friendly. We even added incredible tools you can use for free and still get high-quality audio. The best podcast editing software should have flexible pricing options allowing users to test tools for a fixed period or until the user is ready to upgrade to a paid plan.
Core Features
The podcast audio software you choose should be able to handle the recording and editing processes to make the creation process more seamless. We selected all-in-one solutions for podcasters. We also gave podcast tools with better tools more priority, including those with music production, noise removal, and audio restoration tools.
Compatibility
The podcast's compatibility with different systems was considered. Most podcast audio editors are CPU-intensive and do not match the system's requirements. The podcaster's device should be able to work seamlessly with the program, so we selected programs that work with Mac, Windows, and Linux.
G2 Ratings
We considered what others had to say about each podcast audio editor. The final ratings in this article are gotten from G2 ratings, users, and our tests.
Part 2. Top 12 Free Podcast Editing Software
You can make a good podcast without letting a budget or a financial commitment stop you. Below are the 12 best podcast editing software:
This podcast audio editor allows video and audio recording without an internet connection. It is used to record studio interviews anywhere in the world without worrying about sound quality during the recording.
This is the perfect tool for course creators with easy-to-use dashboards and interfaces. Big companies like Spotify, Marvel, TED, Netflix, Microsoft, Vaynermedia, Business Insider, Verizon, The Economist, Heart, and so much more use it.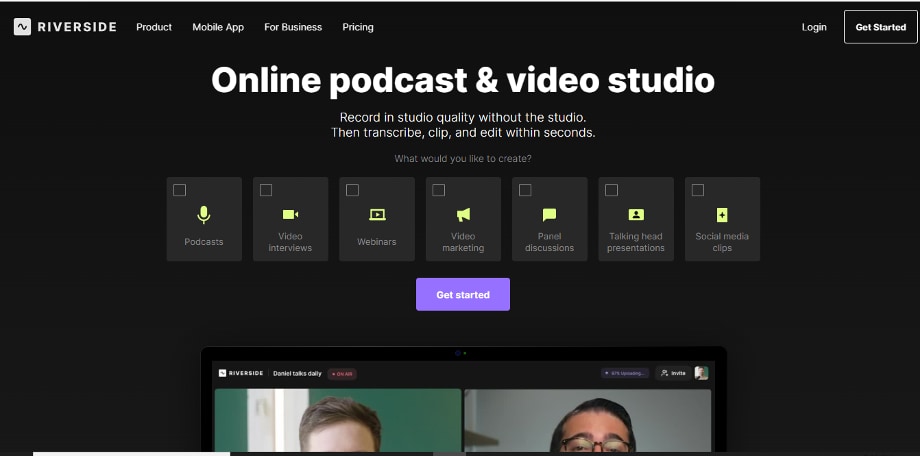 G2 rating: 4.8
Key Features
It has easy editing formats
Separate audio and video files
Automatic podcast editing tools
Podcast tool for all levels, beginner, professional, and anyone in-between
High-quality resolution
Likes
High-quality audio and video
Remote recording
Easy to use
Automatic transcriptions
Videos can be created and stored in different formats
Customizable branding
Dislikes
Expensive for creators
Needs stable internet
Limited integrations and analytics
Long upload time
Pricing
Riverside is quite expensive for heavy users, with its standard plan at $15 per month and $24 for the pro plan.
It has many editing features making it an all-in-one editor, making editing very interesting and simple. It allows one to rapidly convert files to text, modify media and audio, and enable you to record your screen and webcams, and fix any errors.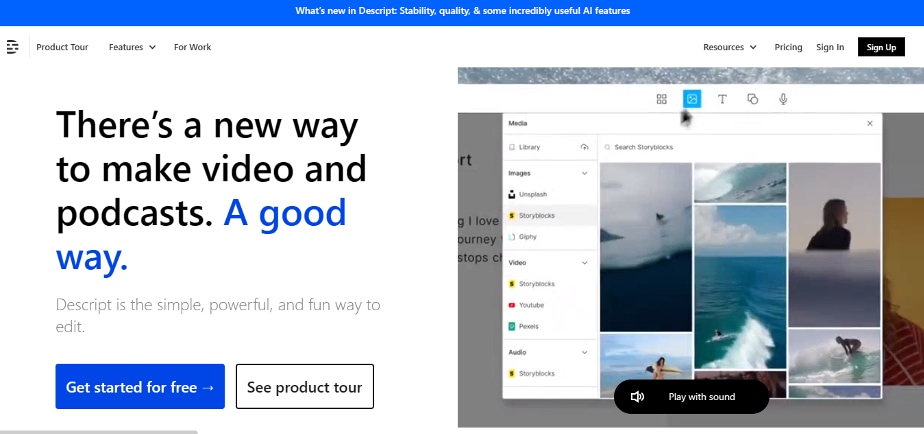 G2 rating: 4.5
Key Features
Transcription into 23 languages
Automatic audio editor
Automatic word filler remover
Overbud voice
Multi tax editing
Audiograms for your podcast
Template library
Dynamic captions
Likes
Easy to use
Tutorials are available
Free trial for beginners
Automatic transcription feature
Dislikes
Available in English only
Transcription is not a 100% accurate
Frequent glitches
Pricing
Descript has a good plan for creators at $12 per month, but its pro plan remains at $24.
It is a fully equipped studio where music is created; in other words, it is a music creation studio made by Apple.
It has a library where you can keep your audio records, modify speed, and transition in the audio recordings; it can support multiple formats. This podcast editing software works on Mac systems from version 10.13.6 and above.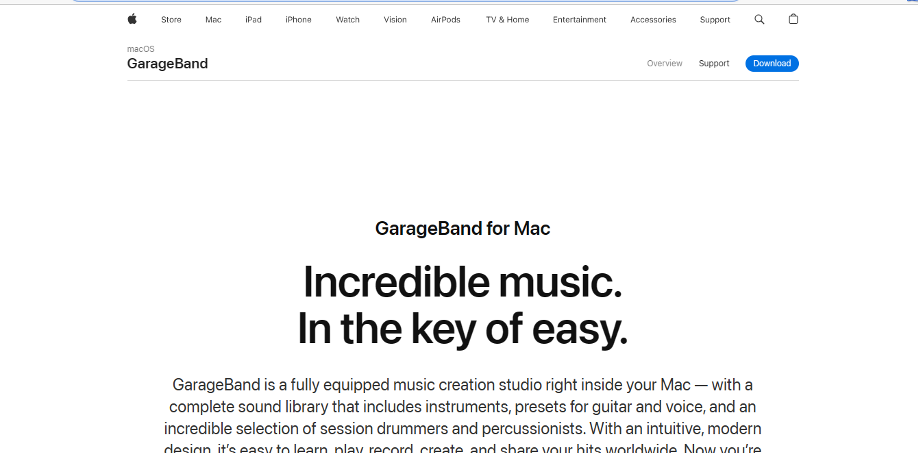 G2 rating: 4.3
Key Features
Multitrack editing
It creates and saves templates
It has a streamlined user interface
You can tweak the recording in different ways
You can change the pitch of your audio recording
Likes
Easy editing process
Diverse loops of EDM, Indie, Hip Hop, etc.
Create music with 28 beat-making drummers and 3 percussionists.
Offer built-in lessons.
Dislike
Large output file size
Preferences not saved
Computer sources are consumed
Pricing
Garageband is free for all OS X Mavericks and iOS 7 users or later, but there is a $4.99 one-time in-app purchase for additional tools and sounds.
It is the simplest way or method to make a podcast, as its features are easy to understand. It has a web-based interface allowing podcasters and content creators ease of use while transcribing, editing, re-creating voice with AI, and exporting audio recordings.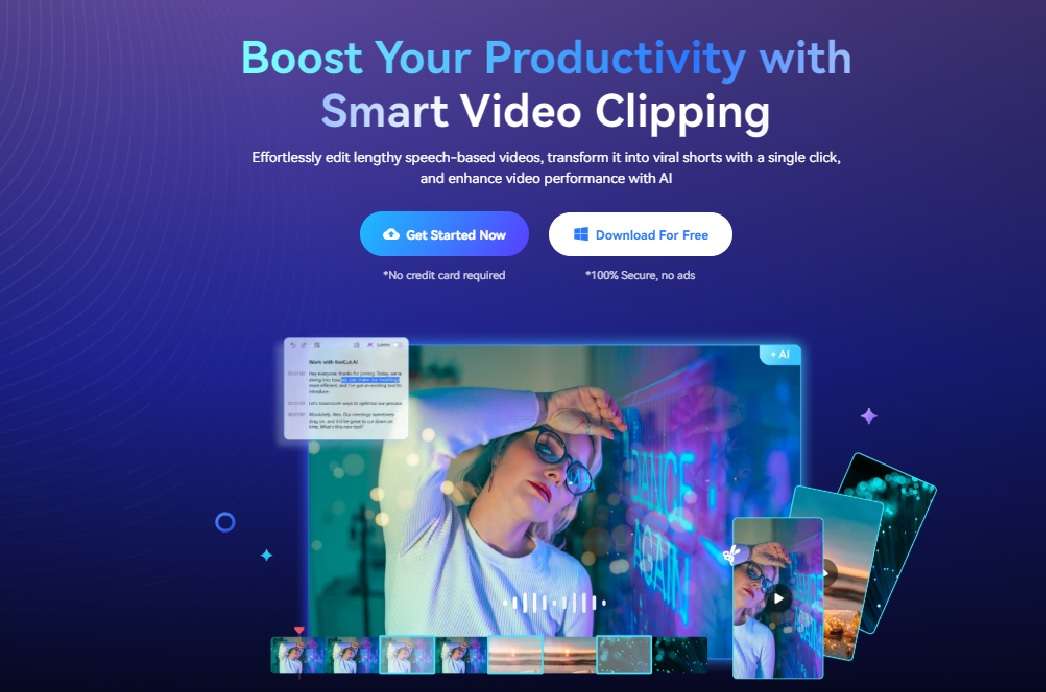 G2 Rating: 4.8
Key Features
It enhances audio in 1 tap
Interactive transcript editing
It is simple to edit audio by editing text
It generate natural-sounding AI voices
It has an AI-generated text-to-speech feature
Likes
Intuitive interface
Large range of tools
Seamless editing process
Dislike
Lack of audio recording function currently
Pricing
KwiCut has budget-friendly plans with basic at $0.
It has web-based software with the ability to turn audio recordings into shows. It is easy to use and understand. All you need to do is record your segments and upload them. Then it is cleaned and ready for editing.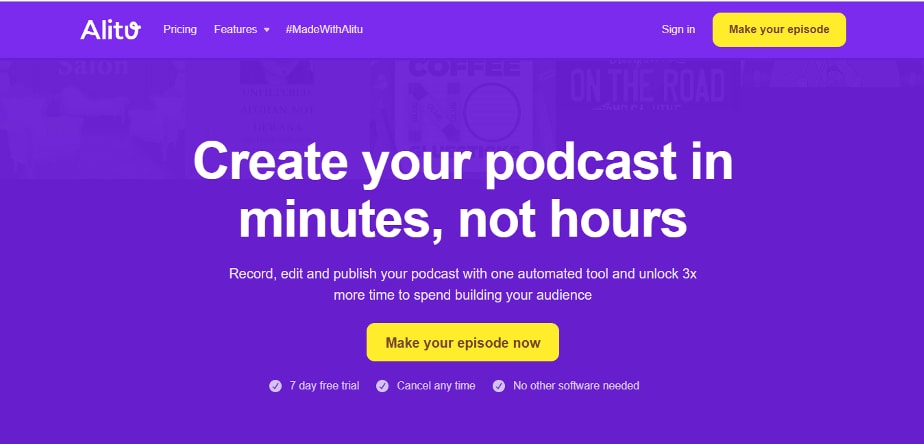 G2 Rating: 4.5
Key Features
Removal of audio mistakes
Unlimited audio recording
Levels out audio volume
It blocks out background noise
Likes
Easy-to-use software
Compatible with any computer
Complete tools for full podcast production
Dislikes
Works online only
No free trial
Output is only available in MP3 format.
Pricing
Alitu's pricing is reasonable at $32 per month or $320 for the annual plan. The price is a bit higher than other podcast audio editors.
WavePad is a podcast audio editor that is easy for beginners and professional users. The program can create high-quality audio recordings and is available for download online.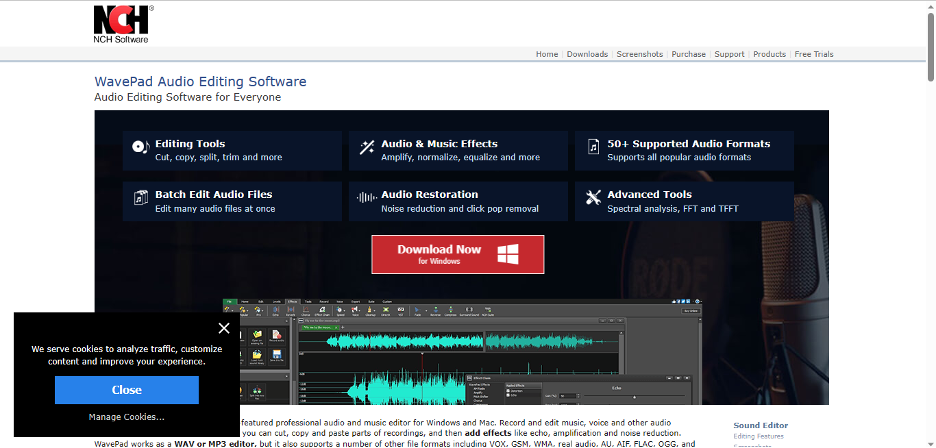 G2 Rating: 4.4
Key Features
Multitrack editing
Audio effects and enhancements
Noise and click removal
Voice recording and editing
Batch processing and automation
Likes
Free trial packed with professional features
Multichannel
Accessible batch operations
Impressive compatibility
Dislikes
One-track recording
No mixer
Pricing
WavePad has a flexible plan at $5.50 per month.
A versatile and user-friendly online tool designed to streamline your podcast editing experience. Kapwing allows you to easily and precisely edit your podcast episodes, regardless of your technical expertise.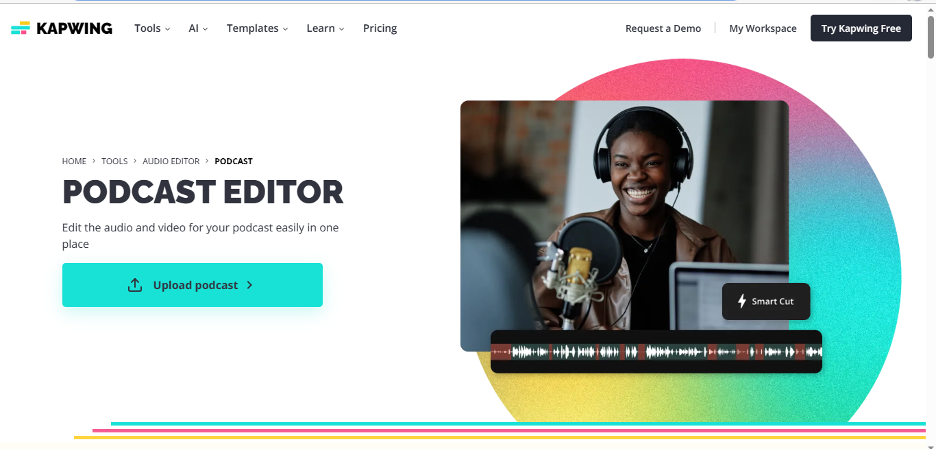 G2 Rating: 4.4
Key Features
Trim, cut, and merge audio files
Adjust volume levels
Add audio effects and filters
Cloud-based platform for easy access
User-friendly interface
Likes
Simple and intuitive to use
No software installation required
Works on any device with internet access
Offers a range of audio editing capabilities
Can enhance audio quality with effects and filters
Dislikes
Limited advanced editing features
It may not have as robust audio processing options as dedicated software
Requires an internet connection for editing
Limited customization options
Potential file format limitations
Pricing
Kapwing is flexible and cheap, with a free basic plan and a $16 monthly pro plan.
With Streamlabs, you can access powerful features tailored specifically for podcasters. Seamlessly edit your recordings, enhance audio quality, and create a captivating listening experience.
Trim, cut, and merge audio files effortlessly, apply effects and filters to perfect your sound, and fine-tune volume levels for a balanced mix.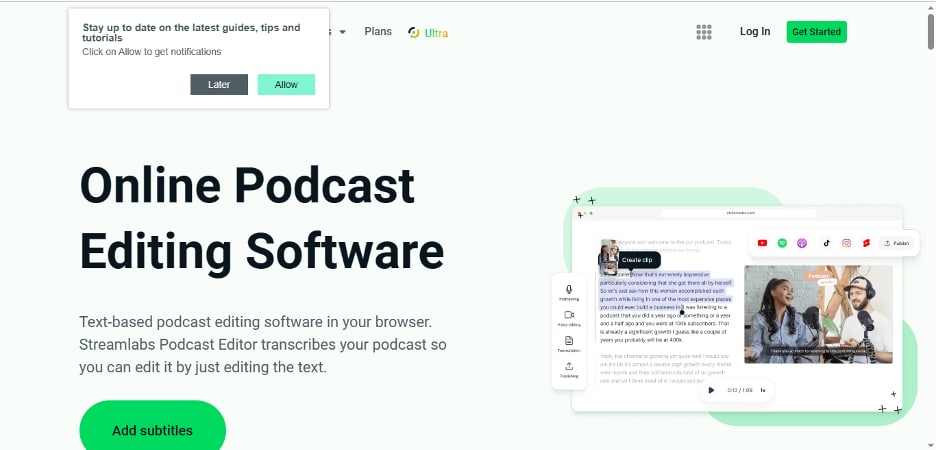 G2 Rating: Nil
Key Features
Advanced editing capabilities for trimming, cutting, and merging audio files.
Audio enhancement tools.
Volume normalization and leveling features
Built-in effects and filters
Support for various audio formats
Likes
Professional-grade podcast editing capabilities.
Intuitive and user-friendly interface.
Seamless integration with other Streamlabs tools and platforms.
Regular updates and improvements based on user feedback.
Dislikes
Limited customization options for interface and workflow preferences.
Availability is restricted to specific platforms (e.g., Windows or macOS).
Higher system specifications.
Pricing
Streamlabs is flexible and cheap, with a free basic plan and a $12 per month pro plan.
Hindenburg offers an all-in-one solution to create exceptional podcasts with ease and efficiency.
Whether you're a seasoned podcaster or a beginner, Hindenburg provides advanced features like automatic leveling, noise reduction, and seamless multitrack editing to deliver high-quality, polished results.
Its robust audio processing capabilities and comprehensive export options make it a top choice for podcasters aiming for professional-grade production.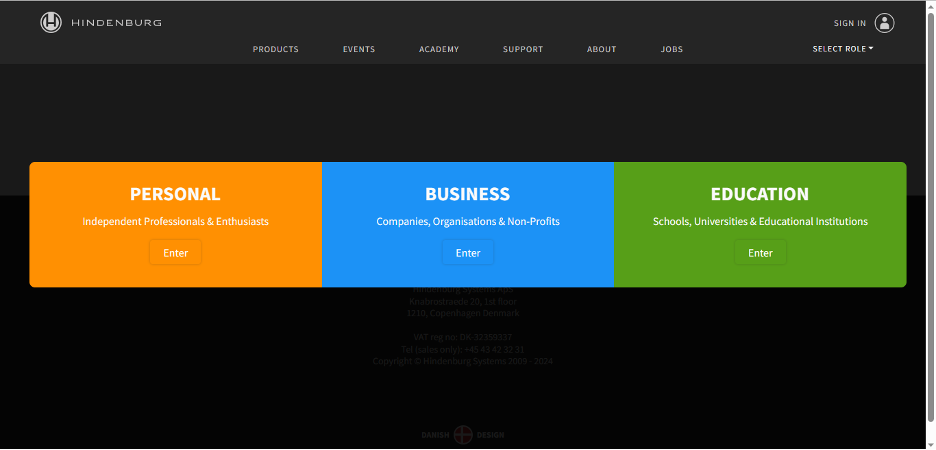 G2 Rating: 4.3
Key Features
Intuitive and user-friendly interface.
Advanced audio processing tools.
Multitrack editing capability.
Comprehensive export options supporting various file formats and delivery platforms.
Access to built-in effects, transitions, and EQ tools for professional audio enhancement.
Likes
Professional-grade editing tailored for podcast production.
Streamlined workflow and intuitive features for podcasters.
Robust audio processing for enhanced sound quality.
Extensive export options for compatibility with platforms.
Regular updates and reliable customer support.
Dislikes
The higher learning curve, especially for beginners.
Limited availability: Windows and macOS only.
Higher price compared to some alternatives.
Pricing
Hindenburg is quite flexible with a free basic plan and a $12 per month standard plan, a $15 per month pro plan, and a $30 monthly premium plan.
Studio One from Presonus software provides a seamless and efficient workflow with its intuitive interface and powerful recording, editing, and mixing capabilities.
It offers an extensive library of virtual instruments, effects, and sound libraries to fuel your creativity. Advanced audio processing and mastering tools ensure the highest quality sound output.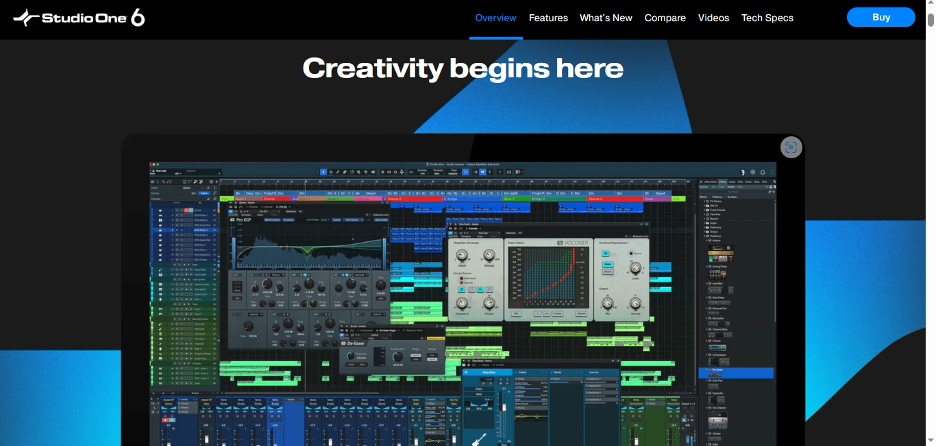 G2 Rating: 4.4
Key Features
Intuitive interface, efficient and seamless workflow.
Powerful recording, editing, and mixing capabilities.
Extensive library of virtual instruments and effects.
Advanced audio processing and mastering tools.
Real-time collaboration and cloud storage options.
Likes
Professional-grade audio production and editing capabilities.
Streamlined workflow with a user-friendly interface.
Versatile and customizable virtual instruments and effects.
Reliable performance and stability.
Support for real-time collaboration and cloud-based projects.
Dislikes
The higher learning curve, especially for beginners.
Limited compatibility with some hardware and plugins.
The price may be higher compared to entry-level software.
Some advanced features may require additional purchases or upgrades。
Pricing
StudioOne has its sphere plan at $14 per month, its professional plan at $37 per month, and the Artist upgrade at $28 per month.
A cutting-edge tool is revolutionizing the way we analyze and interpret complex data. With its advanced algorithms and intuitive interface, murf.ai empowers users to uncover valuable insights and make informed decisions.
From data visualization to predictive modeling, this innovative platform streamlines the data analysis process, empowering businesses to thrive in an increasingly data-driven world.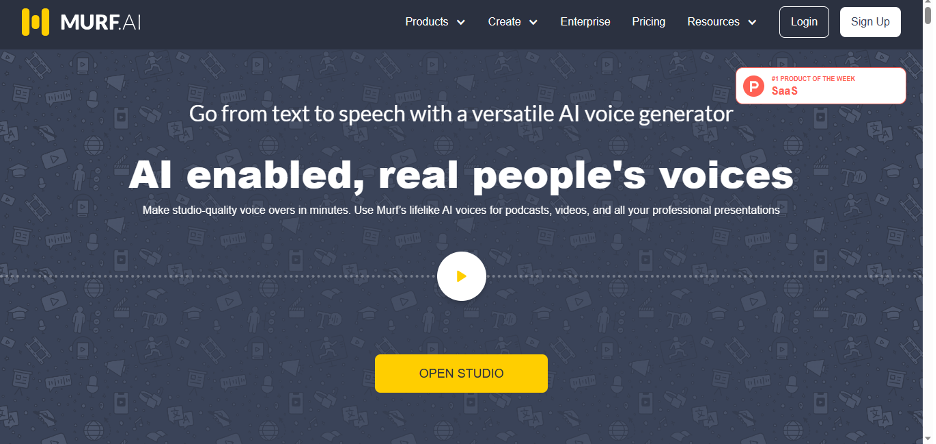 G2 Rating: 4.6
Key Features
Advanced data analysis tools.
Intuitive data visualization capabilities.
Predictive modeling for accurate insights.
User-friendly interface for easy navigation.
Scalable performance for large datasets.
Likes
Advanced data analysis capabilities.
Intuitive and interactive data visualization.
Predictive modeling for accurate forecasts.
User-friendly and intuitive interface.
Scalable and efficient performance.
Dislikes
The steep learning curve for beginners.
Limited customization options are available.
Dependency on internet connection.
Potential for complex technicalities.
Pricing limitations.
Pricing
Murf.ai has flexible but costly plans with a free plan, a $19 basic plan, a $26 pro plan, and a $99 enterprise plan.
Resound has a vast library of tracks from emerging and established artists; it offers an immersive and personalized music experience.
Users can explore diverse genres, curate playlists, and connect with a vibrant community of music enthusiasts.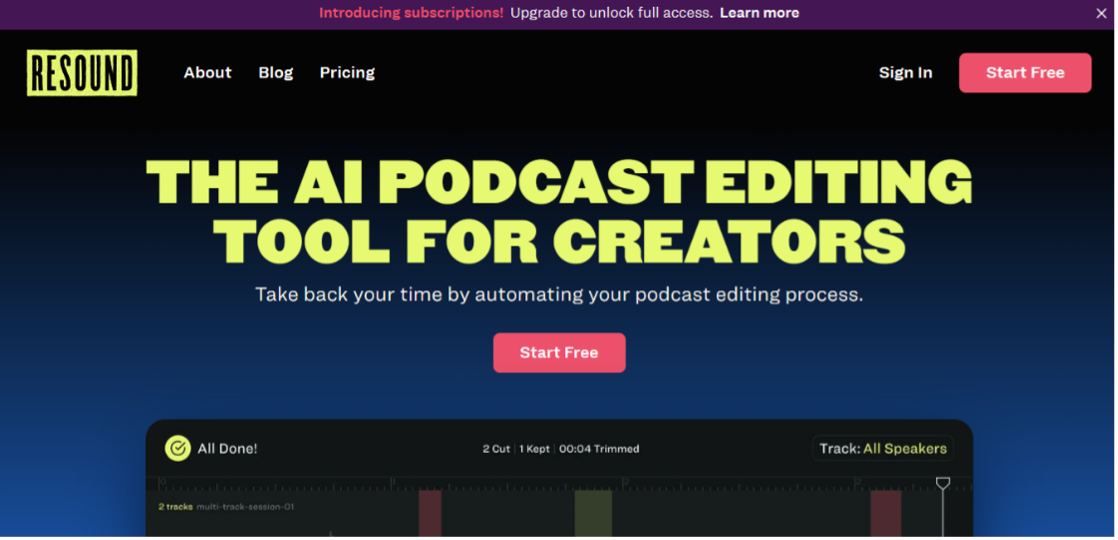 G2 Rating: Nil
Key Features
Vast music library
Personalized recommendations
Interactive playlists
Social music sharing
Mobile app accessibility
Likes
Extensive music variety
User-friendly interface
Discovering new artists
Seamless playlist creation
Community engagement
Dislikes
Limited offline listening options
Ads interrupting music playback
Limited customization options
Inconsistent audio quality
Lack of lyrics display
Pricing
Resound has a free plan for users to test features, a $12 creator plan, a $24 professional plan, and a $49 studio plan.
Part 3. How to Pick the Podcast Editor Perfectly Suit Your Needs
When selecting a podcast editor, consider your specific requirements. For beginners, prioritize user-friendly interfaces and intuitive controls.
Advanced users may prefer editors with advanced audio editing features and support for multitrack editing. Tailor your choice based on goals, such as enhancing sound quality, adding effects, or streamlining the editing workflow。
To Sum Up
This post has explored 12 top-notch free podcast editing software options catering to the needs of all podcasters. With these tools, you can enhance your podcasting experience and create captivating content without breaking the bank. Happy editing!