In today's digital world, the quality of your audio can either make or break your podcasting experience. Exceptional sound is the cornerstone of a captivating podcast. In this article, we will delve into the world of live podcasting and explore the best live podcast platforms available. Additionally, we'll introduce you to KwiCut, a versatile audio editing tool that can help you fine-tune your podcast audio for the best possible listening experience.
Part 1: The Rise of Live Podcasting
Live podcasting has rapidly become a dynamic and interactive way of creating content, transforming the world of audio broadcasting. It's a fusion of traditional podcasting with the real-time features of live streaming.
1. Connecting with Your Audience
Live podcasting offers creators a unique platform to engage with their audience more spontaneously and interactively. Unlike pre-recorded episodes, live podcasts allow immediate interaction with listeners through chat, Q&A sessions, and polls. This builds a sense of community and authenticity.
2. Real-Time Engagement
Real-time engagement has numerous advantages. Audience interaction isn't limited to comments and emails; it happens instantly. Creators receive immediate feedback and can adjust their content accordingly. This feedback loop enhances the overall podcasting experience, making it more responsive to listener preferences.
3. Versatility Across Genres
Live podcasting appeals to a wide range of genres and content styles, from talk shows and gaming commentary to live music performances and breaking news coverage. The immediacy and direct connection with the audience amplify the impact and entertainment value across various niches.
Part 2: Best 6 Live Podcast App
Live podcasting has gained immense popularity, and to make the most of this trend, you need the right live podcast platforms. In this section, we'll explore the top 6 live podcast apps, each with its unique features and advantages. Let's start with the leader in the field:
Have you ever wondered where you can seamlessly blend music streaming with live podcasting, all in one platform? With over 345 million monthly active users, Spotify is not just a music streaming platform; it's a live podcast app. It offers a seamless transition between music and live podcast content.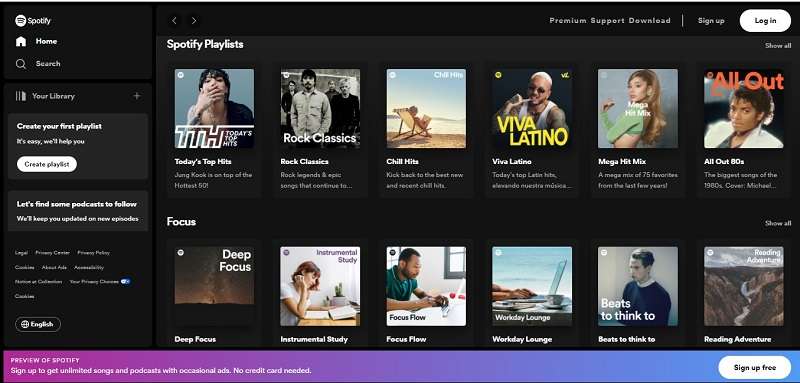 Compatibility of Spotify: Available on iOS, Android, and the web.
You can host live podcast sessions and interact with your audience in real time.

It offers Spotify's extensive user base for wider reach.

You gain access to detailed insights into your podcast's performance.

It allows you to seamlessly incorporate your live podcast into Spotify playlists.

You can explore various monetization options to support your content.
Broad audience reaches.

Detailed statistics to refine your podcast's performance.

Playlist Integration.
Restrictions on monetization options.

May not provide the same experience on all devices.
Are you searching for a user-friendly live podcast app for both discovering and hosting live podcasts? Google Podcasts offers precisely that, making it a fantastic choice for reaching a wide audience. It offers convenience and personalization to both creators and listeners.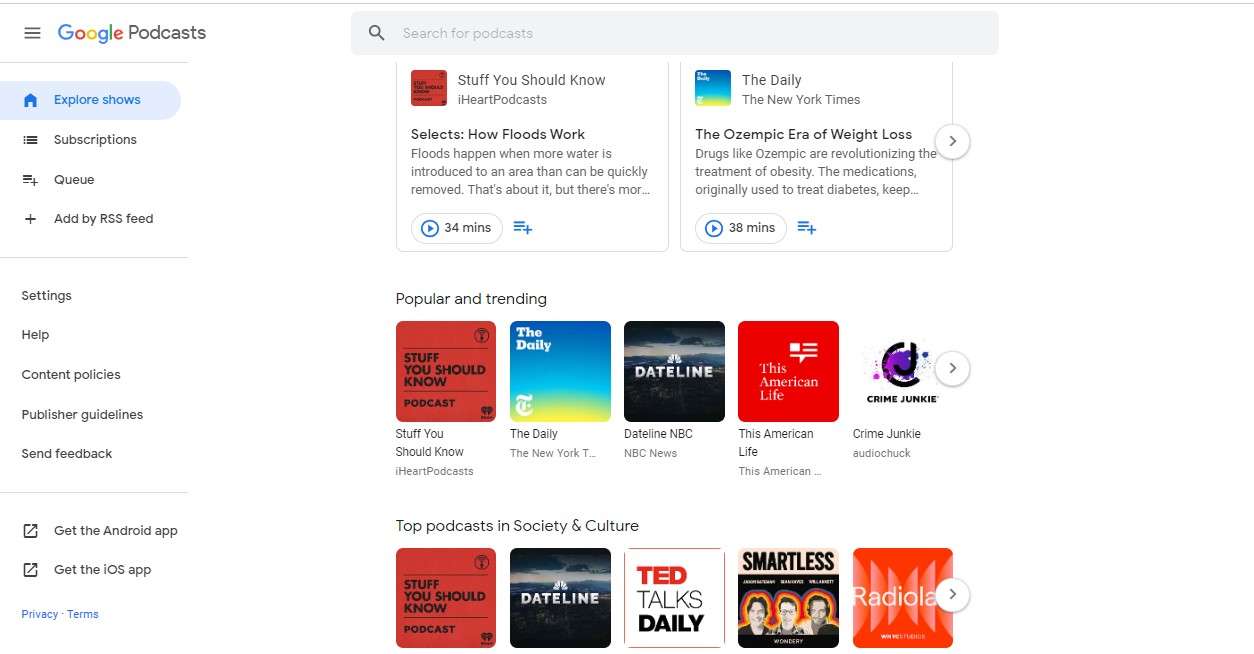 Compatibility of Google Podcasts: Available on iOS, Android, and the web.
You can engage with your audience through live podcast sessions.

You can easily manage your podcasts across devices.

It offers personalized podcast recommendations.

You can download episodes for listening on the go.

It effortlessly subscribes to and organizes your favorite podcasts.
User-friendly interface.

Cross-device integration.

Personalized recommendations
Limited monetization options.

Limited exclusive content.
Are you an Apple enthusiast looking for a comprehensive podcasting platform? Apple Podcasts, with its extensive reach and user-friendly interface, is a go-to choice for many podcast creators and listeners. Apple Podcasts is a trusted choice for podcasting within the Apple ecosystem, offering a wide reach.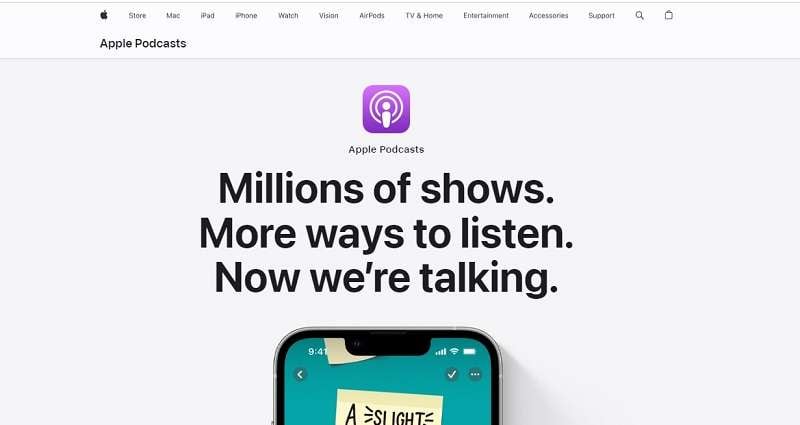 Compatibility of Apple Podcasts: Available on iOS devices, Mac, and Apple Watch.
It offers live podcast sessions and real time audience engagement.

Enjoy effortless synchronization with your Apple devices.

Access a vast collection of podcasts across genres.

Gain valuable feedback from your audience.

Get insights into your podcast's performance and listener demographics.
Apple ecosystem compatibility.

Global reach.

User Reviews.
Limited monetization options.

Non-Apple Device Limitations.
If you're a news enthusiast and crave live interactions, fox news podcasts bring the best of both worlds. It's where informative podcasts meet real-time engagement. Fox News Podcasts is your gateway to staying informed and engaged with the latest news events. Be sure to explore its live offerings for a dynamic news experience.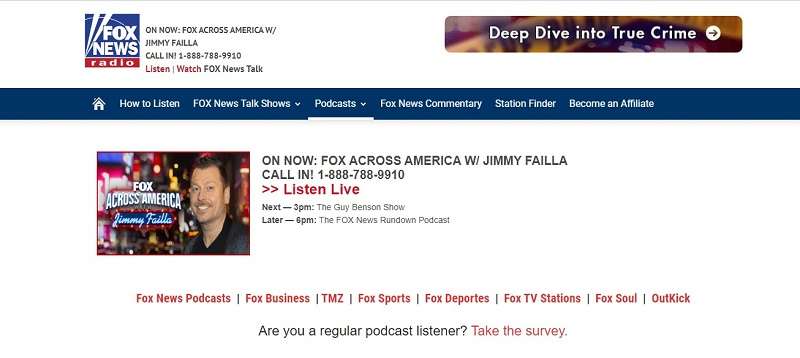 Compatibility of Fox News Podcasts: Can be accessed on various devices and platforms.
Key Features of Fox News Podcasts:
Stay informed with live broadcasts of breaking news and in-depth analysis.

Engage with hosts and fellow listeners through live chat and Q&A sessions.

Explore a wide range of news topics, from politics to lifestyle.

Access recorded episodes for convenient listening.

Benefit from expert insights and analysis on current events and issues.
Real-time news updates.

Interactive engagement.

Diverse news categories.
It could limit your access to certain live events.

Potentially limiting your experience on other devices or platforms.
Podbean is a comprehensive podcasting platform that simplifies the podcast creation process, including live interactions. Whether you're a seasoned podcaster or just starting, Podbean offers a suite of tools to help you host, stream, and monetize your podcast.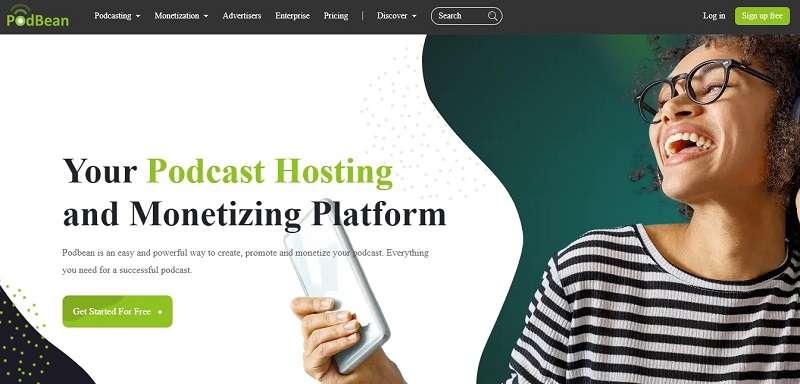 Compatibility of PodBean: Accessible on iOS, Android, and the web.
It offers live podcast sessions effortlessly.

Explore various avenues to monetize your content, including advertising and listener support.

Gain insights into your podcast's performance, listener demographics, and episode metrics.

Create a unique podcast website with built-in hosting for branding and online presence.

Foster a community around your podcast with features like comments and feedback.
All-in-one platform.

User-friendly interface.

Multiple monetization options.
Limited free plan

The podcasting space is highly competitive.
Player FM is a user-friendly and accessible platform that combines live podcasting with a wide range of features. Whether you're a listener seeking personalized recommendations or a creator looking for live interaction opportunities, Player FM has something to offer.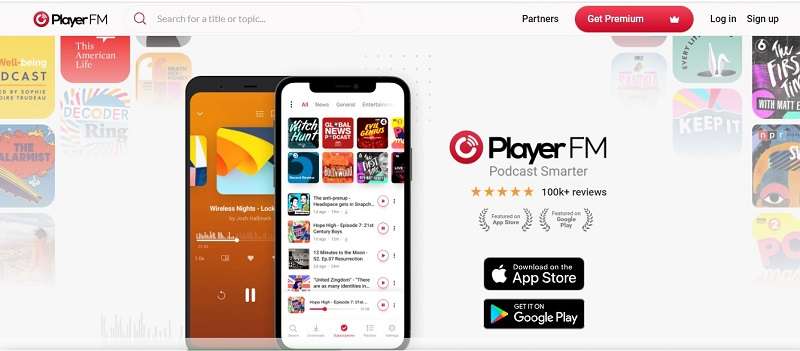 Compatibility of Player FM: Accessible on iOS, Android, and the web.
Interact with your audience through live podcast sessions.

Easily discover new podcasts and follow your favorites for instant updates.

Build playlists with your preferred episodes for customized listening.

Download episodes for offline listening convenience.

Receive personalized podcast recommendations based on your interests.
User-friendly interface.

Live interactivity.

Cross-platform accessibility.
They may not be as extensive as some other platforms.

Content library may not be as extensive as larger competitors.
Part 3: Best Software to Edit Your Audio Files

– Bonus

As podcasting continues to surge in popularity, ensuring the highest audio quality is paramount. To achieve professional sound, you need the right audio editing tool, and one such powerful tool is KwiCut.

KwiCut is powerful and versatile audio editing software designed to help podcasters and creators enhance their audio content with ease.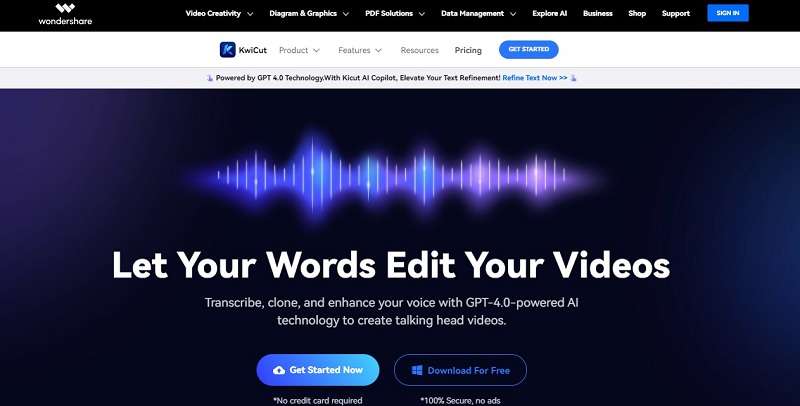 Compatibility of KwiCut: Windows, Online Tool (Mac version coming soon)
You can achieve precision in your audio editing tasks.

It offers audio enhancement features to make your podcast sound professional and polished.

It provides convenient export options.

It supports multi-track editing.

You can achieve professional results without the need for extensive audio editing expertise.
Conclusion
In summary, this article has highlighted the growing significance of live podcast apps. From Spotify to Podbean, these platforms offer dynamic engagement possibilities. Additionally, we introduced KwiCut as a valuable tool to enhance podcast audio quality. To create your podcast masterpiece, don't forget to explore KwiCut's features. It's the key to achieving audio excellence tailored to your unique preferences and requirements.