Spotify has gained a lot of podcasters' interest, and that's why we see many popular comedy podcasts, such as The Joe Rogan Experience, Andrew Schultz's Flagrant, and many more. The podcast industry is now at $23.56 billion, with over 70 million episodes online.
And with Spotify's massive user base of 551 million users, it's important to learn how to upload podcast to Spotify because it has become a standard for podcasters. So, this blog aims to provide a simple 4-step guide on uploading podcasts on Spotify.
Part 1:
The Podcasting Boom: Spotify's Role in Podcasting Revolution
The world has gotten faster than it ever was. No one has the time to be constantly on their phone, which is why audio podcasts have become quite common. Interestingly enough, Spotify supports this change and allows users to listen to podcasts in the most user-friendly and quickest way.
Here are some of the ways Spotify is helping massively in the podcasting revolution:
Convenience:

Podcasts on Spotify are easier to consume as it's simply a couple of clicks away:

Variety:

You can find podcasts of all niches.

Tools for creators:

Spotify offers analytics, discovery tools, and monetization opportunities for the creators.
Part 2:
4-Step Guide on Uploading on Spotify
But what if you want to learn how to upload a podcast to Spotify? While uploading on Spotify is tricky due to all the requirements and technical steps you go through, we have turned it into a simple 4-step guide for your convenience.
Step 1:
The Verification Process
The first step in our guide on how to upload podcast on Spotify is to make sure that you land right on Spotify's requirements. Spotify has made its list of requirements public, and you can use the checklist below to confirm whether you're eligible to upload your podcast on Spotify or not:
The audio files should be in MP3 with ISO/IEC 11172-3 MPEG-1 Part 3 (MP3) format. The bitrate should be between 96 and 320 kbps.

Cover art must be in a square ratio (1:1). The cover art's format must be PNG, JPEG, or TIFF at the highest resolution.

The RSS feed should have the title, cover art, and other relevant details for at least one of the podcasts you're uploading.

Titles shouldn't exceed over 20 characters. Otherwise, you'll see truncation "..." which is bad for SEO.

Special characters should be HTML coded, whether they're used in titles or descriptions.

An episode's length shouldn't increase more than 200MB. 200MB is also equivalent to 83 minutes of audio at 320kbps.
Step 2:
Account Creation
So, how to post a podcast on Spotify? After you land eligible on Spotify's official list of requirements, you'll need to follow our account creation process. If you don't already have an account, you must create one so you can move forward with the verification process. Here are the steps to create a Spotify podcast account: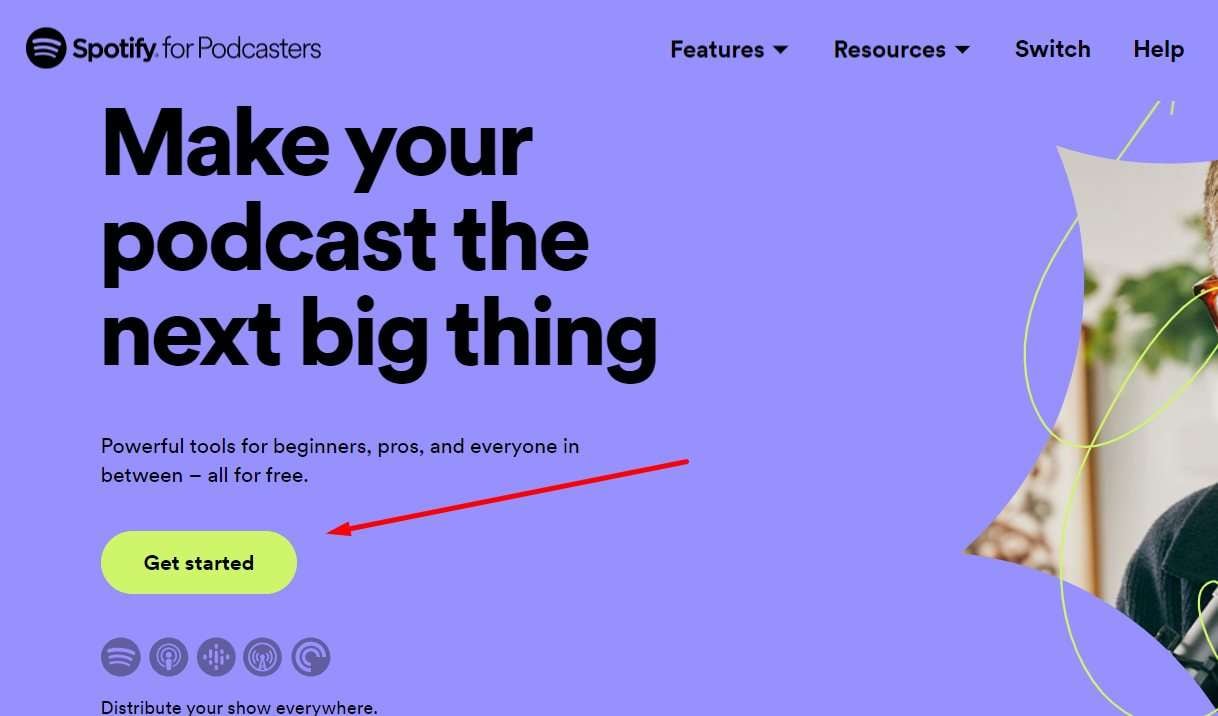 Select whether you want to start a podcast or you already have a podcast.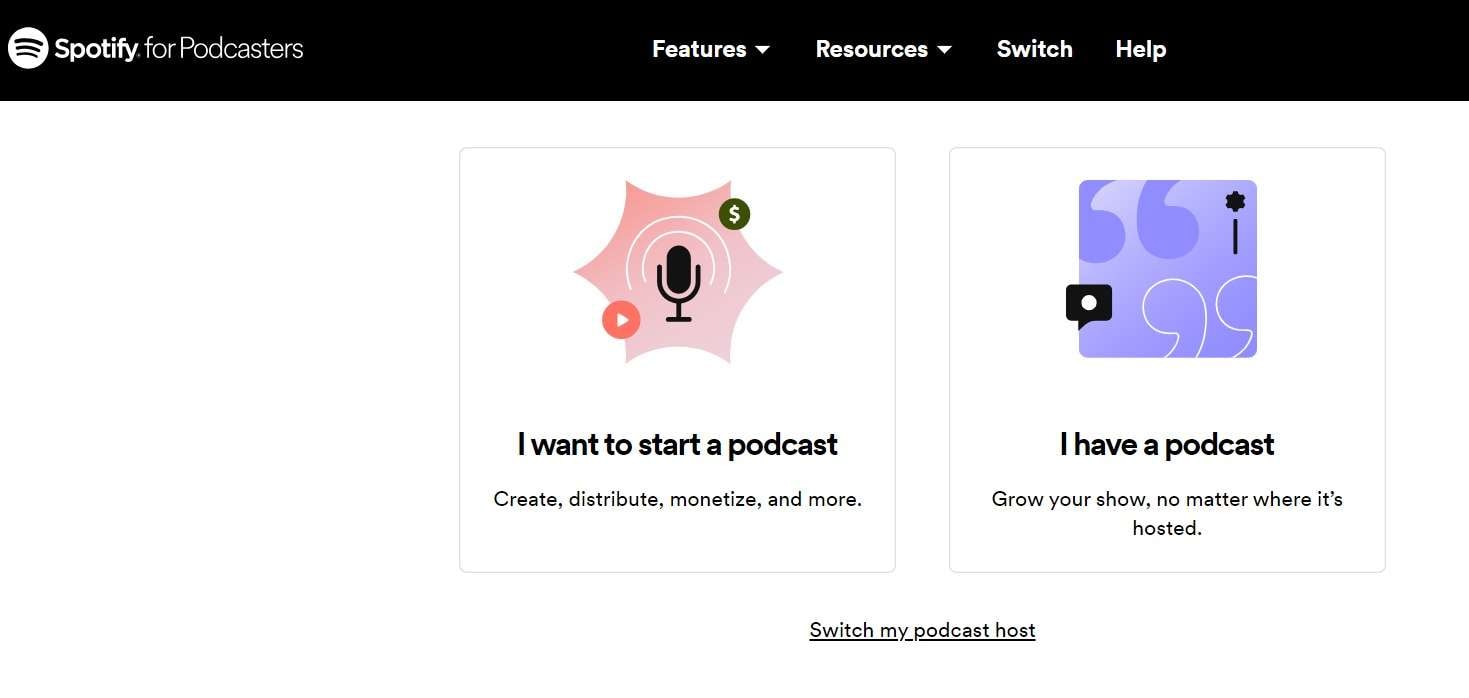 If you select "I want to start a podcast," then you'll need to log in to Spotify.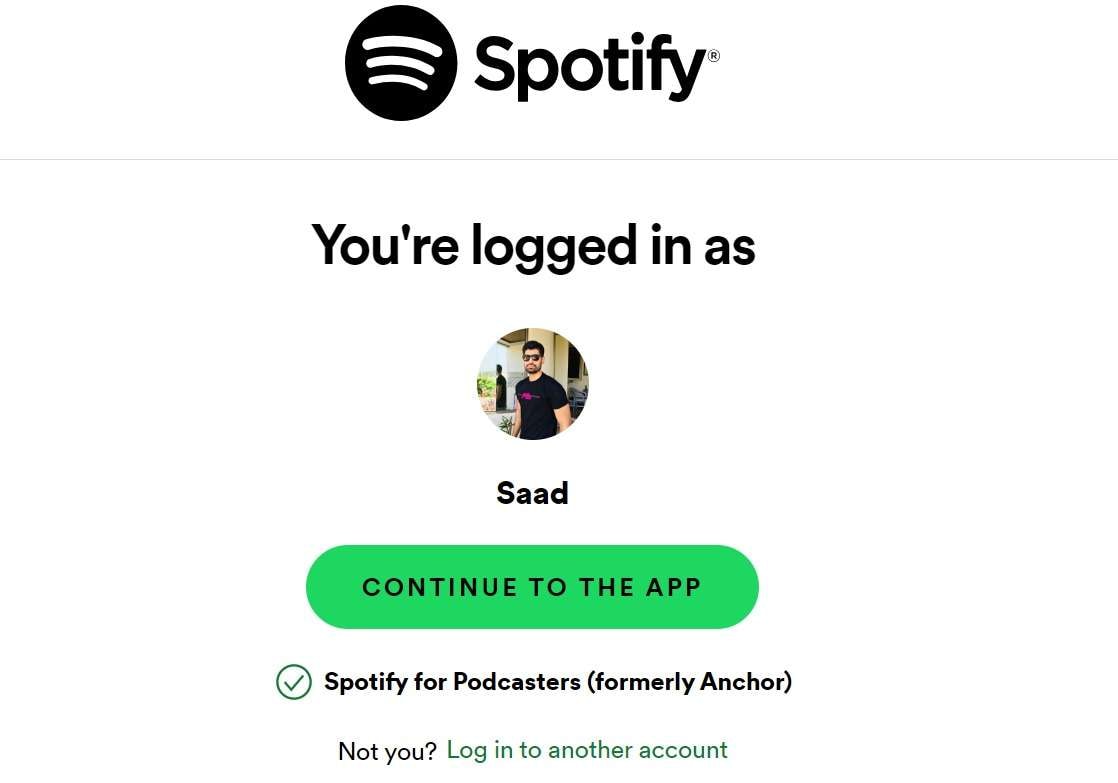 Step 3:
Setting Up the Spotify Podcast Account
After you sign up with Spotify, you'll see a terms and conditions box pop-up. Read through the terms & conditions. It is a comprehensive list and will let you know how much of a cut Spotify is taking what they expect from you as a creator; click on "I have read and agree to the terms and conditions" to continue.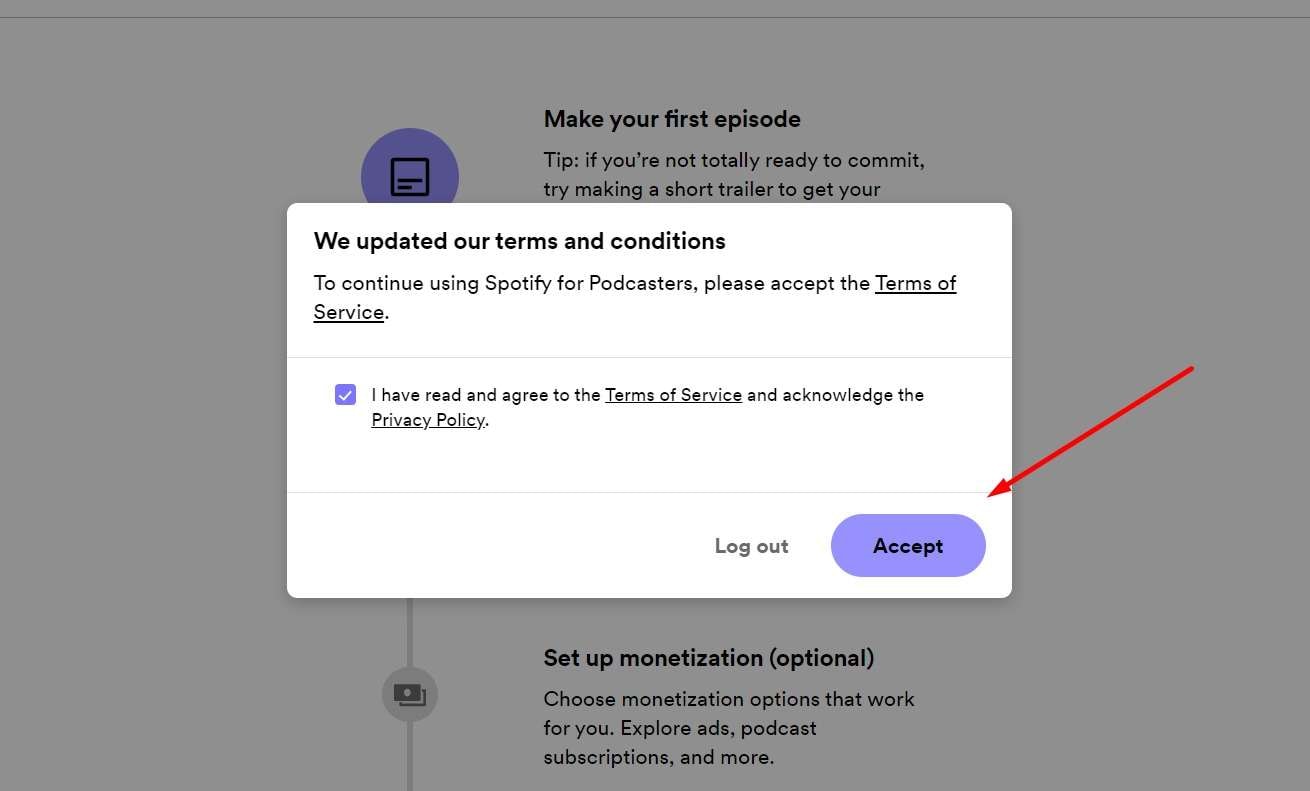 Now click on "Go to Podcast Setup."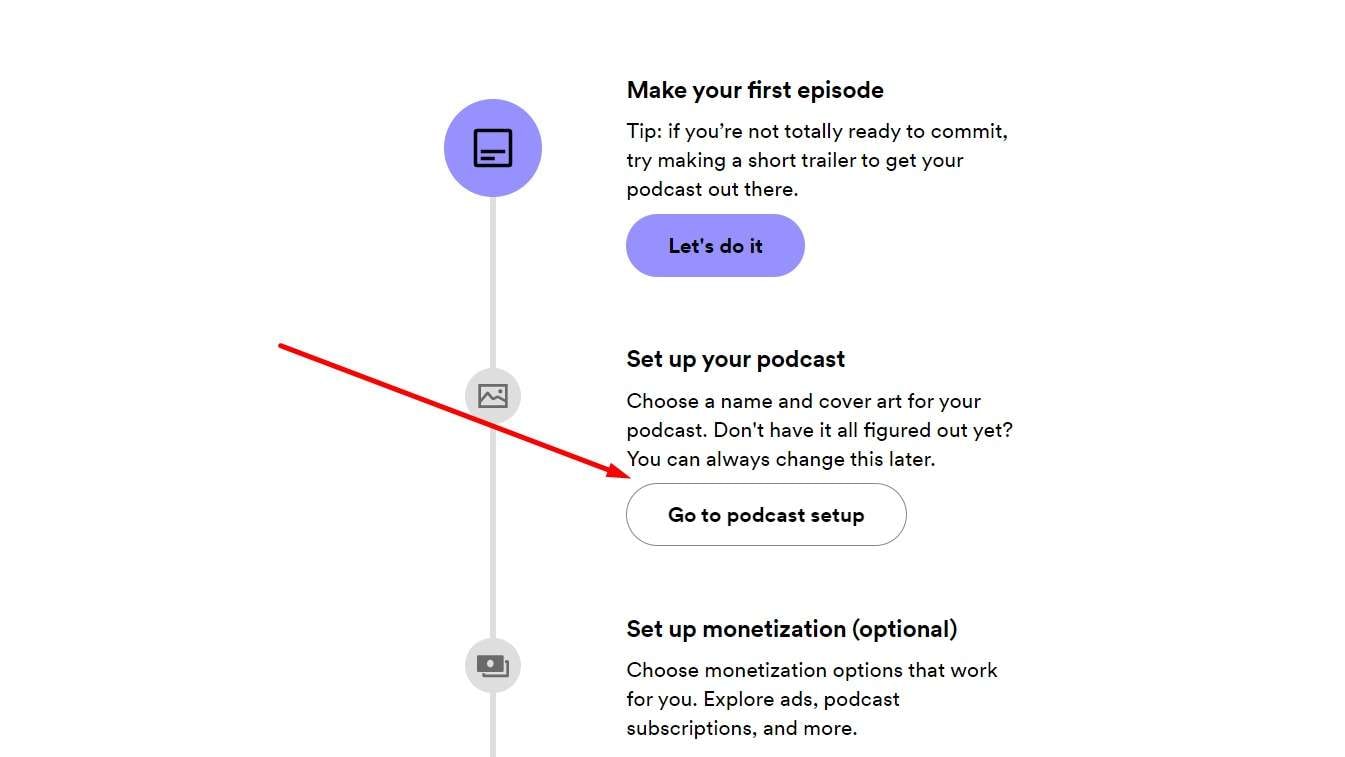 The next step is to submit all the details of your podcasts. You must enter the following things: Country, Primary Language, Hosting Provider, Primary Category, Additional Category. Once you add all of them, click "Next."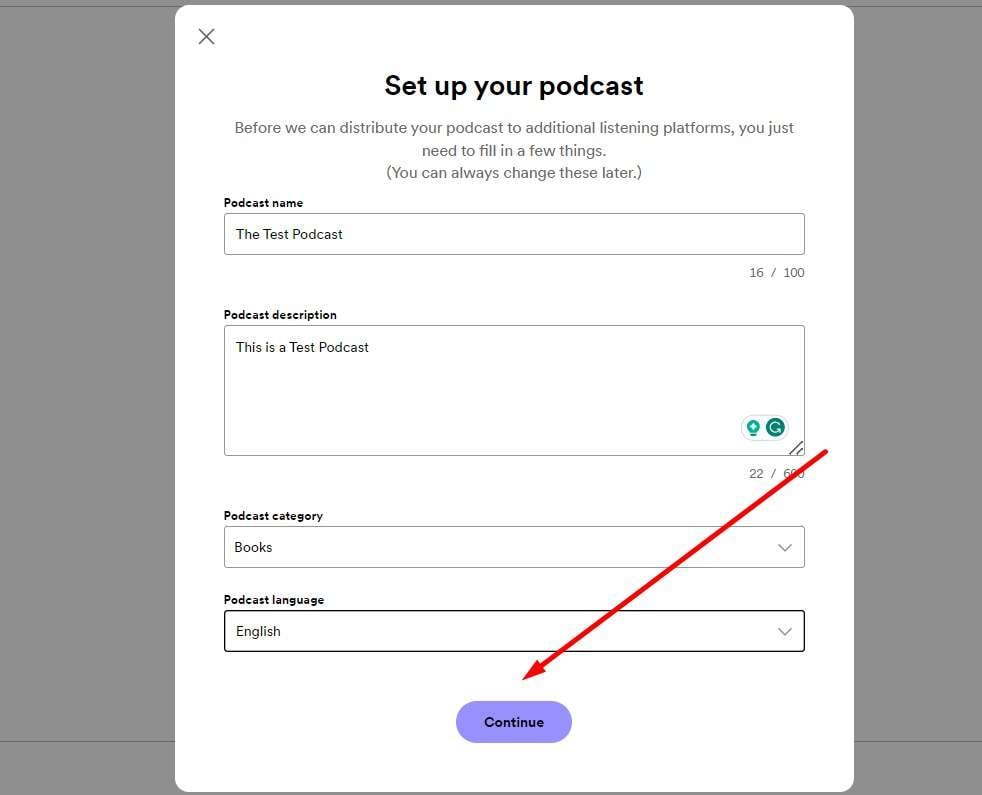 After you've carefully added every detail, select "Let's do it"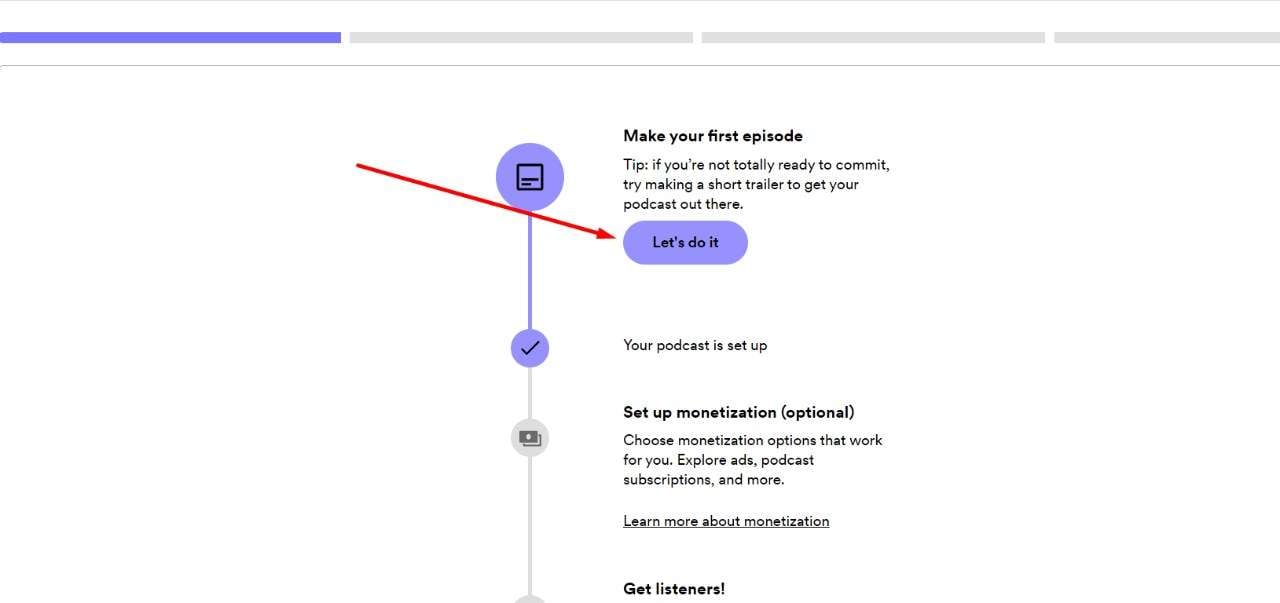 Step 4:
Spotify Podcast Upload
The final step of our tutorial is uploading a podcast on Spotify. There, you'll need to add your first Podcast file. Just make sure it's in mp3, m4a, wav, or mpg format. Click on "Select a file" This is how to post a podcast on Spotify.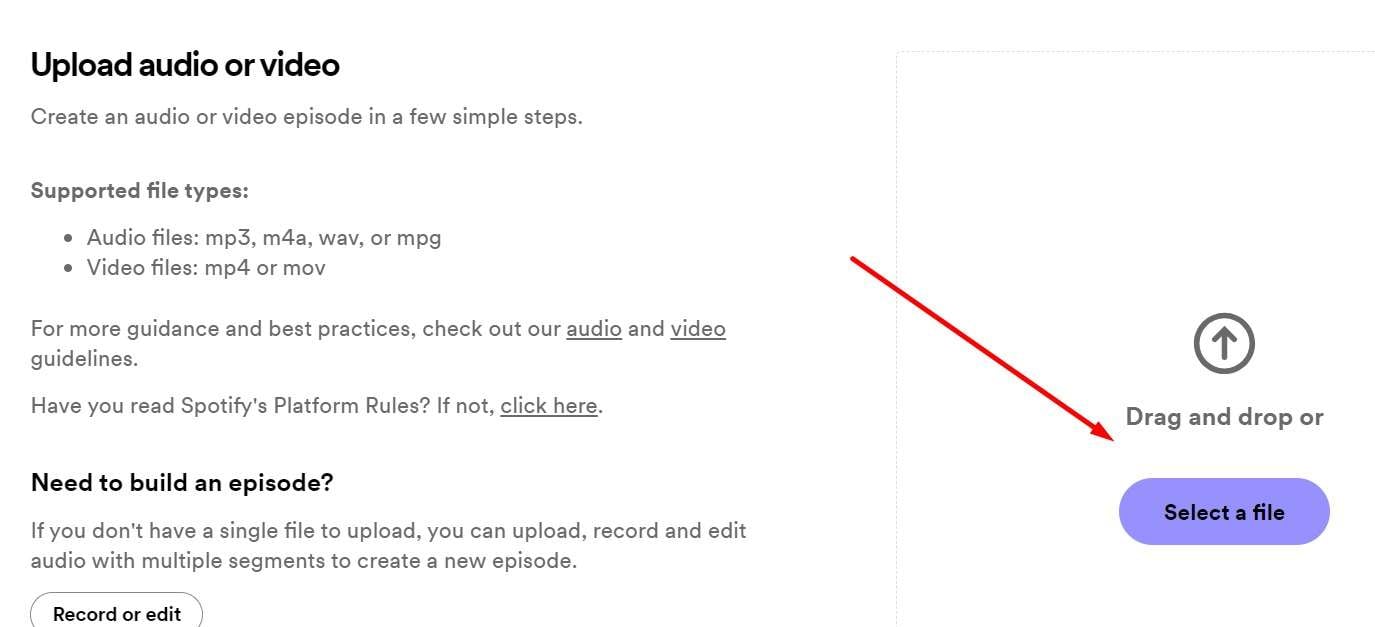 This is the step of adding podcasts to Spotify. Add the episode's title, episode description, and uploading date, additional details, and select "" You can also add cover art and other options to make the podcast feel professional. By clicking next, you'll learn how to make a podcast on Spotify for free.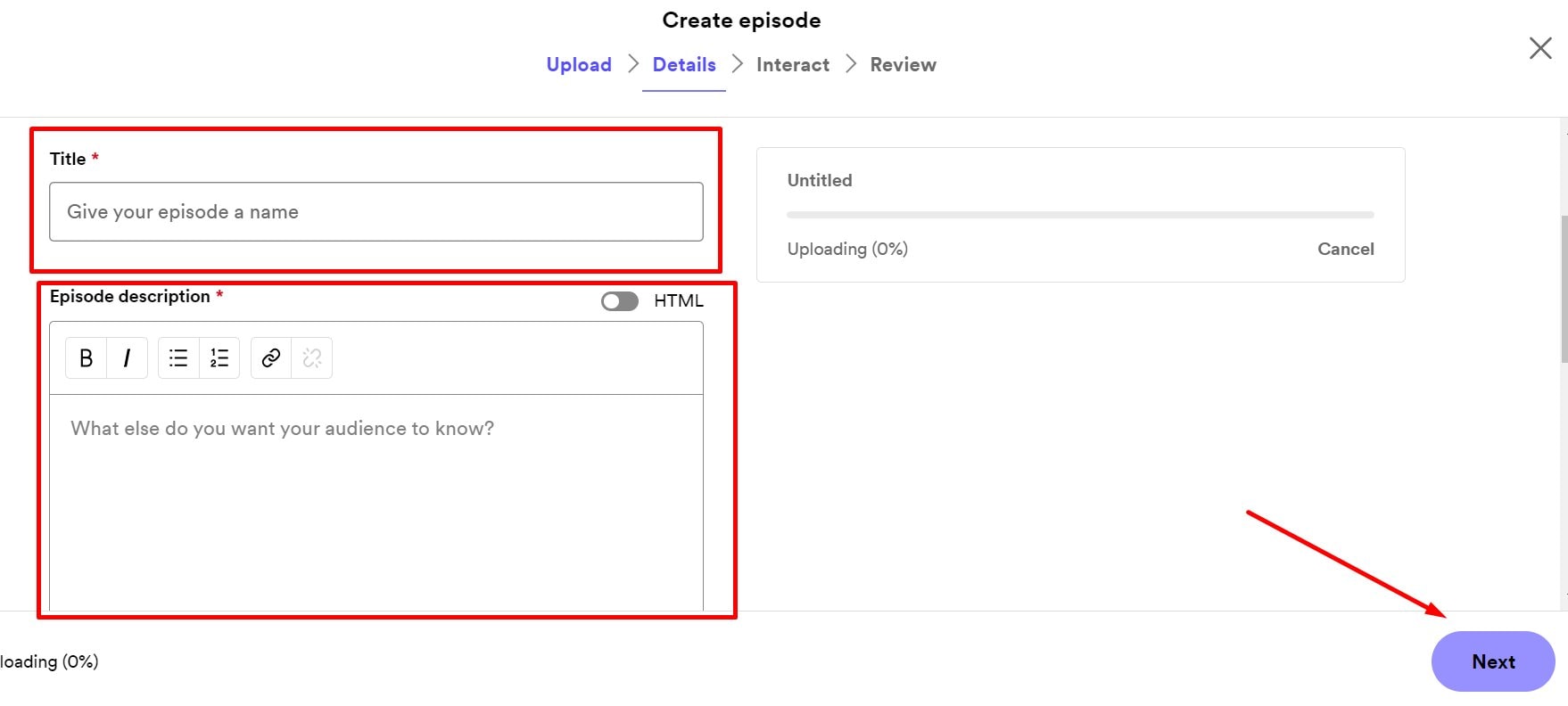 Now, you can add polls and ask your audience questions to increase interactivity. Click "" This will make adding podcast to Spotify easier.
Review all the possible details and finally select "Schedule" or "Publish." Spotify will take some time to go through everything and will let you know if your podcast is ready to be published or not.

Alternatively, you can also enable an RSS feed to import podcasts from another podcast host to Spotify.
Part 3:
Best Software to Edit Your Audio Files

After learning about adding podcasts to Spotify, you might be wondering about how to edit your audio files in a way where they're efficient and smaller yet still have high quality for your listeners on Spotify. That's where KwiCut comes in.
KwiCut is GPT 4.0-powered AI audio tool that allows you to edit podcast files and enhance the sound quality for a better listening experience. We understand how tedious it is to edit audio, especially when there are a lot of "hums," and other words like "Uummm," "ahhh," "eeer," and background noises are involved.
With just one click, KwiCut gets rid of all the noise, and with less noise, you'll get a higher engagement rate and ultimately thrive in the competitive podcasting world. According to our data, KwiCut helps podcasters 10x their editing efficiency, an 80x reduction in editing time, and a massive 165% increase in content quality.
Compatibility of KwiCut
KwiCut Online:

More focused on online audio editing.

KwiCut for Windows:

A full-fledged audio editing software for your Windows device.
Unique Features of KwiCut
Some of the unique features of KwiCut are as follows:
Enhance Podcast's Quality with Noise Remover:

KwiCut allows a plethora of noise-removing features ideal for podcasters and musicians. It features a 1-click noise remover for clearer podcasts and better user experience.

AI Noise Cancellation:

KwiCut utilizes advanced AI algorithms and machine learning to analyze audio streams and normalize the noise levels to the point where they're the most hearable.

AI Voice Cloning:

With the AI voice cloning feature, you can give your input and let AI clone your voice in seconds. You reuse your voice to create automated podcasts as well.
Conclusion
Uploading podcasts to Spotify can be tricky and tedious at times. However, with our simple four-step guide, we hope you're already on your way to making some awesome podcasts for your audience. Podcasts are the future of content consumption because time is limited. Not everyone wants to watch a podcast for 2 hours because listening makes it easier and more effective for everyone.
If you want to edit your audio files for the highest possible quality, you should use KwiCut. With its advanced AI, you can clear background noise in seconds, let AI clone your voice for better editing, and cancel out the noise that you don't want in your podcast.